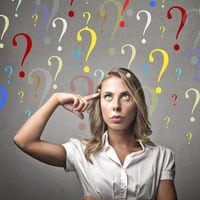 Questions to ask a literary agent – what should you be asking prospective literary agencies? One of the biggest mistakes authors make is not asking enough questions before signing a literary agency contract or literary agency agreement. Sometimes it's because the author doesn't know better; other times it's because the author is too shy to be a good self advocate.
Find the questions you need to ask a literary agent below in this article from our 8-part series called Hiring a Literary Agency. If you don't already have one or more literary agencies offering representation, and you want to change that, click here to read my Get a Book Agent Guide.
* * *
Questions to Ask a Literary Agent Before Signing
Please note the following before reading my questions to ask a literary agent:
Some of the questions below are basic and you shouldn't have to ask them if you've done the appropriate amount of agent research. For example, you shouldn't have to ask book agents how long they've been in business or if they're members of the AAR. You can find that information in my Directory of Literary Agents, on their website, or by doing a quick Google search.
Although you certainly have a right to ask prospective agents questions, understand that you can only ask so many before agents are going to feel interrogated, lose their patience, or tell you they're no longer interested.
Don't overdo it.
Now the most common questions to ask a literary agent…
* * *
#1:

Questions to Ask a Literary Agent
How many years have you been an agent?
Established literary agents are much more likely to get you the results that you want. They've already proven they have the skills and connections to sell books.
* * *
#2:

Questions to Ask a Book Agent
Are you a member of the AAR?
The AAR or Association of Author Representatives is the only organization or association that governs the professional activities of author representatives. Members are bound by a code of ethics so they're generally more likely to provide quality representation.
* * *
#3:

Questions to Ask a Literary Agent
How do you handle subsidiary rights?
Many books are a good fit to be adapted for audio books, movies, plays, foreign translations, calendars, games, etc. Some authors make more money on these subsidiary rights than they do on book royalties. Some literary agencies handle subsidiary rights internally, others work with sub-agents or co-agents.
* * *
#4:

Questions to Ask a Book Agent
Are you going to handle my work personally?
Don't be the victim of a bait-and-switch. Some well-known agents woo new authors, then pass them off to junior agents. That's okay if the senior agent stays involved, but you should know if the agent is going to handle and/or pitch your work personally… or not.
* * *
#5:

Questions to Ask a Literary Agent
How often will I get updates?
Some literary agencies spend too much time on the phone with their authors while others don't spend enough. You're ultimately the one that will have to decide what's appropriate for you. If your agent absolutely adores you and/or is doing a lot of things with you, you might speak weekly for a while. However, you shouldn't take it personally if a couple months go by and you don't hear anything, either.
* * *
#6:

Questions to Ask a Book Agent
What are the terms of your author/agent agreement?
Although most literary agency contracts contain the same clauses, the terms will vary. Your agreement will probably include clauses about the literary agency commission, the title of the work(s) being represented, the term of the contract, payment schedule, expense deductions if applicable, and more.
* * *
#7:

Questions to Ask a Literary Agent
Will you consult with me on all offers?
You shouldn't have to ask this question, but it's better to be safe than sorry. Make sure you're going to be notified regarding all offers for your book. Some literary agencies might not tell you about offers they think you wouldn't be interested in, or they might agree to an offer prematurely. Trust your agent but make sure you're part of the decision making process.
Now, click here to read the next article in this 8-part series and
learn about the two types of Literary Agent Agreement.

* * *
* * *
Find a Literary Agent