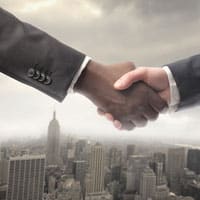 Literary agent agreement  – what do you need to know? A literary agency contract or agreement is the first step toward getting a publishing agreement with a traditional publisher like Random House or Simon & Schuster. But there isn't just one type of literary agency agreement you need to know about. There are two.
And one of them is a really bad idea.
See both literary agent agreement types below in this article from our 8-part Guide to Hiring a Literary Agent. If you don't already have one or more literary agencies offering representation, and you want to change that, click here to read my Get a Literary Agent Guide for Authors.
* * *
Literary Agent Agreement – Two Types
You might find this hard to believe but some literary agencies don't give authors a written literary agent agreement. Instead, they offer a verbal agreement. Or, they give the author an option to choose between a written book agent agreement and a verbal book agent agreement.
Which one is best?
* * *
Get a Written Literary Agent Agreement
A written literary agent agreement is the only type of book agent agreement that I recommend. If you have any business experience whatsoever, you already understand this.
Written agreements are best for many reasons:
People forget things. Don't rely on your memory, or your agent's memory, when it comes to your book and your business.
Misunderstandings happen. Writing things down makes it much easier to expose any ambiguity, and eliminate anything that both parties don't agree on.
Other people might get involved. What happens if your agent gets fired, leaves the agency, retires, etc.?
Not all relationships are forever. If you or your representative ever want to terminate your verbal literary agent agreement, what happens then? Who's entitled to what? What is the timeline?
* * *
Literary Agent Agreement – Conclusion
I definitely want you to trust your book agent and I don't want you to live in fear… but I also don't want you to be naive and make yourself vulnerable. There are too many important parts of a literary agent agreement for them to not be put in writing.
Now, click here to read the next article in this 8-part series
and see the different parts of a Literary Agent Contract.

* * *
* * *
Find a Literary Agent