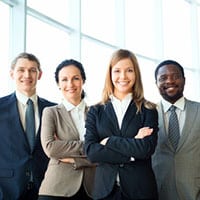 New Literary Agents – Find all new book agents here on this Literary Agents website created by a former literary agency owner, former AAR member, and former Marketing & Licensing Manager for a well-known publisher.
Scroll below now to find the most comprehensive, accurate, and up-to-date information for all new literary agents seeking new clients. You'll also find out how you can get free, instant access to the Directory of Literary Agents which has detailed profiles for every active literary agent, including the new literary agents listed below.
* * *
New Literary Agents – New Book Agents
Enter your first name and email address now for free instant access to the official Directory of Literary Agents™.  Join thousands of other subscribers and use what authors are calling "the most comprehensive–and accurate–book agent directory available in print or online" (maintained by a former NY Times bestselling literary agency owner and President).
.
Enter the Directory – New Literary Agents
Unfortunately, most book agent directories (print and online) are incomplete, outdated, and filled with mistakes. If you rely on those book agent directories to research new literary agents, you'll greatly reduce your chance of getting a top literary agency to represent you.
Our Directory of Book Agents is the most trusted source for book agent information available today. Get the most accurate information for all active book agents now (including new literary agents) by clicking here to access our Directory of Literary Agents.
Get free instant access to:
* Agent biographies for all new literary agents
* Agent photos for all new book agents
* Personal email addresses for all new literary agents
* Mailing addresses for all new publishing agents
* AAR membership status of all new book agents
* Preferred query letter methods (email, online form, postal mail)
* Links to agency websites for all new book agents in the directory
* Maps to offices of all new publishing agents in the directory
* Search the directory by book genres or categories (116 of them)
Here's what a sample book agent profile
from the agent directory looks like…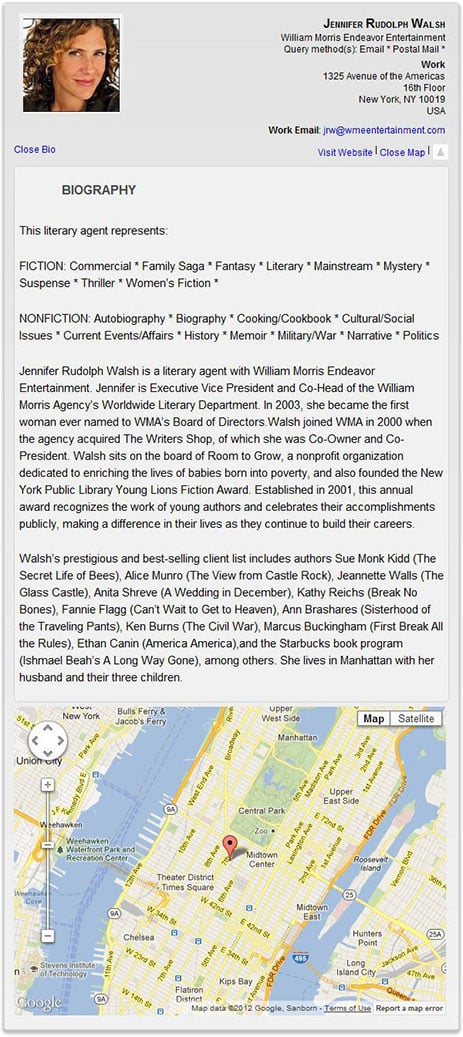 * * *
New Literary Agents – Important
Before you look at the list of new literary agents below,
there are three important things you need to know.
First, the new literary agents listed there aren't all just getting started as literary agents. In some cases, the "new literary agents" you see listed are simply new to the literary agency where they're working. In other words, they're already established but they recently stopped working at one literary agency to work at another one. We've included those agents on our list of new literary agents because most agents moving from one literary agency to another are on the lookout for new authors and clients.
The second thing you need to know about our list of new literary agents is that it's updated constantly and we keep the agent organized by year. So, if you're doing agent research and looking for new literary agents seeking clients, start with the new literary agents listed under the 2014 header. They're much more likely to be looking for new authors than new literary agents listed under previous years because the 2014 book agents moved or  just started agenting most recently. You should also note that all of the new literary agents listed below are sorted alphabetically, by their last names, and some of them appear as hyperlinks. That's because we're in the process of creating individual webpages for all of these new literary agents.
The third and final thing you need to know about the new literary agents listed here is that you can access detailed profiles for all of them in our Literary Agents Directory absolutely free. There you'll find complete literary agent bios, query format preferences, contact information, and more for every active literary agent (more than 1,000).
* * *
New Literary Agents – 2019 New Book Agents
Erin Clyburn
Ashley Lopez
Rachel McMillan
Jamie Carr
Hannah Ekren
James McGowan
Maile Beal
Agnes Carlowicz
Jennifer Grimaldi
Katelyn Uplinger
Kerstin Wolf
Matt Belford
Chris Rogers
Dabney Rice
Garrett Alwert
Jan Baumer
Jessica Felleman
Claire Harris
Hannah Brattesani
Patrice Caldwell

Megan Manzano
Dominic Yarabe
Joseph Perry
Amy Stapp
Alexandra Levick
Karly Caserza
Rhea Lyons
Kelly Oden
Kristin van Ogtrop
Chad Luibl
Alicia Brooks
Masha Gunic
Timothy Barry
John Butman
Lori Kilkelly
Lynn Johnston
Nicole Bezanson
Jana Hanson
Lauren Miller
Leanne Tavares

Elizabeth Bennett
Tara Gilbert
Devin Ross
Laura Lee Mattingly
Kate Woodrow
Anne Tibbets
Samantha Bagood
Nathan Hedrick
Heather Cashman
Jacqueline Lipton
Shari Maurer
Tia Mele
Ann Tanenbaum
Zoë Plant
Laurel Symonds
Stephanie Alton
Yvette Greenwald
Sam Roen
Laurie Chittenden
Marisa Zeppieri

New Literary Agents – 2018 New Book Agents
Cara Bellucci
Kiana Nguyen
Leslie Zampetti
Destiny Modeste
Ann Leslie Tuttle
Kieryn Ziegler
E.J. McCarthy
Kevin Lewis
Elizabeth Resnick
Alyssa Taylor
Sonali Chanchani
Polly Nolan
Kim-Mei Kirtland
Claire Draper
Claire Friedman
Michael Mungiello
Jessica Mileo
Maria Whelan
Maggie Kane
Whitney Ross
Kimberly Jago
Dylan Lowy
Matt Carlini
Colleen Oefelein
Marlo Berliner
Savannah Brooks
Ryan Eichenwald
Zabé Ellor
Julia Livshin
Oliver Latsch

Lauren Scovel
Matthew Huff
Elizabeth Rudnik
Britt Siess
Natalie Grazian
Leslie Meredith
Amy Brewer
Patty Carothers
Jordan Hamessley
Jennifer Thompson
Isabelle Bleecker
Nathan Vogt
Alexander Novotny
Tara Gelsomino
Anne-Lise Spitzer
Ann Rose
Emma Sector
Dara Kaye
Samantha Isman
Eva Scalzo
Charlene Visco
Danielle Bukowski
Jaidree Braddix
Anna Petkovich
Peter Ryan
Julian Strachan
Susanna Lea
Sarah Manning
Matthew Valentinas
Alexander Field

Heather Carr
Don Gates
Olivia Nathan
Taylor Thompson
Lesley Sabga
Lynnette Novak
Jessie Stover
Kat Enright
Toni Lopopolo
Tina Pohlman
Shannon Orso
Melissa Gaines
Nicki Richesin
Kelli Martin
Emily Williamson
Johanna V. Castillo
Lindsay Davis Auld
Justin Brouckaert
Luba Ostashevsky
Karyn Fischer
Cynthia Segraves
Samantha Fingerhut
Cortney Radocaj
Kat Kerr
Tess Callero
Sarah Gerton
Joy Eggerichs Reed
Julie Dinneen
Deborah Hofmann

New Literary Agents – 2017 New Book Agents
Lorin Oberweger
Greta Moran
Hannah Mann
Becky LeJeune
Aimee Ashcraft
Kaitlyn Johnson
Andrew Chamberlin
Quressa Robinson
Kelly Van Sant
Heather Jackson
Gabrielle Piraino
Shana Kelly
Susan Graham
Lauren Bieker
Eric Lupfer
Samantha Wekstein
Erica Bauman
Rob Arnold
Sarah Bowlin
Nick Chiles
Susan Zanger
Natascha Morris
Cynthia Ruchti
Kari Sutherland
Shaheen Qureshi
Stephanie Koven
Rica Allannic
Austin Miller
Sarah Fuentes
Jamie Chambliss
Caroline Eisenmann
Allison Hegan
Hillary Jacobson
Heather Karpas
Jessica Errera
Larissa Helena
Trodayne Northern

Robert Thixton
Leslie Varney
Grace A. Ross
Katelyn Hales
Rubin Pfeffer
Melissa Nasson
Jennifer Kim
Wendi Gu
Christina Morgan
Jocquelle S. Caiby
Nell Pierce
Madelyn Burt
Laura Usselman
Kathy Schneider
Keith Urbahn
Matt Latimer
Ariana Philips
Cari Lamba
Dorian Maffei
Carolyn Savarese
Hilary Harwell
Ben Grange
Lee Sobel
Michael Lennie
Connor Eck
Lucinda Blumenfeld
Stephanie Hansen
Quressa Robinson
Lori Nowicki
Claire Easton
Shadra Strickland
Jamie Vankirk
Abby Schulman
Brandie Coonis
Jenna Pocius
Ali Herring

Elizabeth Bewley
Sarah Landis
Rachel Ridout
Paula Canal
Timothy Travaglini
Lucy Cleland
Hannah Fergesen
Sarah Bedingfiel
Adria Goetz
Chris Clemans
Jennifer Wills
William Reeve
Victoria Wells Arms
Keely Boeving
Adriana Stimola
Melissa Danaczko
Aemilia Phillips
Mohamed Shalabi
Nicola Barr
Whitney Gossett
Sarah Bolling
Julia Eagleton
Catherine Hedrick
Wendy Goldman Rohm
Elizabeth Poteet
Bob Hostetler
Jeff Posternak
Alison Lewis
Kiele Raymond
Claire Roberts
Taylor Curtin
Jessica Spivey
Julia Masnik
Cherise Fisher
Kathleen Nishimoto
Michelle S. Lazurek

* * *
If you want to know more about new literary agents, established literary agents, or our book agents directory click here to access the Book Agent Directory section of this website.