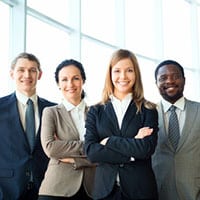 New Literary Agents – Find all new book agents here on this Literary Agents website created by a former literary agency owner, former AAR member, and former Marketing & Licensing Manager for a well-known publisher.
Scroll below now to find the most comprehensive, accurate, and up-to-date information for all new literary agents seeking new clients. You'll also find out how you can get free, instant access to the Directory of Literary Agents which has detailed profiles for every active literary agent, including the new literary agents listed below.
* * *
New Literary Agents – New Book Agents
Enter your first name and email address now for free instant access to the official Directory of Literary Agents™.  Join thousands of other subscribers and use what authors are calling "the most comprehensive–and accurate–book agent directory available in print or online" (maintained by a former NY Times bestselling literary agency owner and President).
.
Enter the Directory – New Literary Agents
Unfortunately, most book agent directories (print and online) are incomplete, outdated, and filled with mistakes. If you rely on those book agent directories to research new literary agents, you'll greatly reduce your chance of getting a top literary agency to represent you.
Our Directory of Book Agents is the most trusted source for book agent information available today. Get the most accurate information for all active book agents now (including new literary agents) by clicking here to access our Directory of Literary Agents.
Get free instant access to:
* Agent biographies for all new literary agents
* Agent photos for all new book agents
* Personal email addresses for all new literary agents
* Mailing addresses for all new publishing agents
* AAR membership status of all new book agents
* Preferred query letter methods (email, online form, postal mail)
* Links to agency websites for all new book agents in the directory
* Maps to offices of all new publishing agents in the directory
* Search the directory by book genres or categories (116 of them)
Here's what a sample book agent profile
from the agent directory looks like…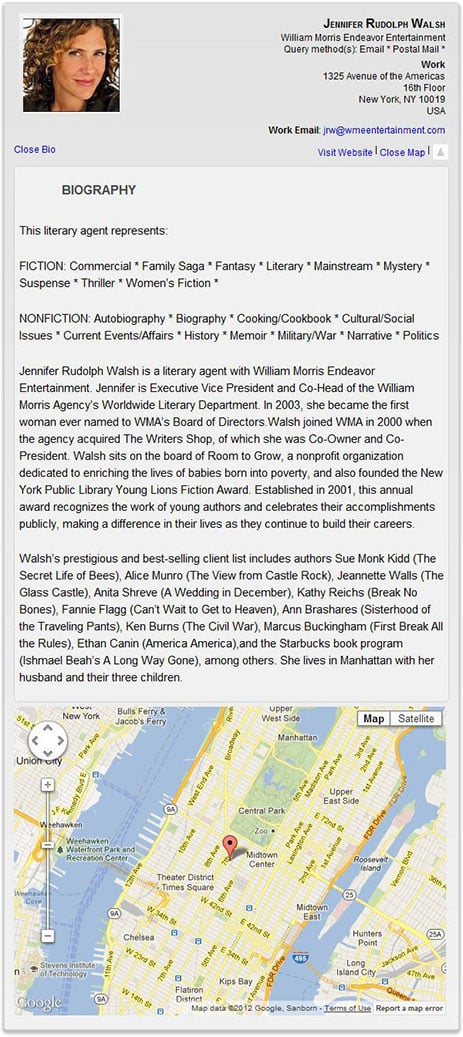 * * *
New Literary Agents – Important
Before you look at the list of new literary agents below,
there are three important things you need to know.
First, the new literary agents listed there aren't all just getting started as literary agents. In some cases, the "new literary agents" you see listed are simply new to the literary agency where they're working. In other words, they're already established but they recently stopped working at one literary agency to work at another one. We've included those agents on our list of new literary agents because most agents moving from one literary agency to another are on the lookout for new authors and clients.
The second thing you need to know about our list of new literary agents is that it's updated constantly and we keep the agent organized by year. So, if you're doing agent research and looking for new literary agents seeking clients, start with the new literary agents listed under the 2014 header. They're much more likely to be looking for new authors than new literary agents listed under previous years because the 2014 book agents moved or  just started agenting most recently. You should also note that all of the new literary agents listed below are sorted alphabetically, by their last names, and some of them appear as hyperlinks. That's because we're in the process of creating individual webpages for all of these new literary agents.
The third and final thing you need to know about the new literary agents listed here is that you can access detailed profiles for all of them in our Literary Agents Directory absolutely free. There you'll find complete literary agent bios, query format preferences, contact information, and more for every active literary agent (more than 1,000).
* * *
New Literary Agents – 2023 New Book Agents
Kathleen Kerr
Kate Davids
Maria Alcantara
Lane Clarke
Jenissa Graham
Rebecca Matte
Kwaku Acheampong
Becca Crandall
Carolyn Jenks
Jonathan Merritt
Kristina Sutton-Lennon
Marin Takikawa
Kendyll Drilling
Tessa Shaffer
Megan Frayser
Cynthia Manson
Tamara Kawar
Parik Kostan
Anjanette Barr
Sheyla Knigge
Lauren Albury
Zoe Aline Howard
Gideon Pine
Antoinette Van Sluytman
Eloy Bleifuss
Judythe Cohen
Claire Dippel
Mina Hamedi
Ali Lake
Roma Panganiban
Mackenzie Williams
Cole Hildebrand
Camille Kantor
Arley Sorg
Allegra Martschenko
Natalie Obando
Katie Gisondi
Ben Williams
Amanda Bernardi

Kara Grajkowski
Lauren Bajek
Kelly Bergh
Mara Cobb
Jen Newens
Aram Fox
Daniele Hunter
Caroline Trussell
Ginger Hutchinson
Olivia Coleman
Lindsay Howard
Sophia M. Ramos
Trinica Sampson-Vera
Kimberly Fernando
Elizabeth Pratt
Kathryn Toolan
Taj McCoy
Danielle Matta
Alyssa Maltese
Erika Stevens
Madeline Wallace
Meagan Burgad
Ena Burnette
Katie Monson
Laura Pink
Dani Sanchez
Kim Tatum
Vanessa Taylir
Jacinta Chavous-Kambach
Julia Fink
Chandler Wickers
Martha Perotto-Wills
Kesia Lupo
Morgan Strehlow
Sophie Cudd
Helen Lane
Aliza R. Hoover
Beniamino Ambrosi

Stephanie Stevens
CoCo Freeman
D. Patrick Miller
Vicky Weber
Lynette Eason
HB Steadham
Ashley Reisinger
Emma Dries
Mitch Royer
Nina Noelle
Noah Grey Rosenzweig
Aurora Fernandez
Claire Romine
Ethan Long
Heather Long
Madeline Shellhouse
Claire Oleson
Alisha West
Georgana Grinstead
Cole Lanahan
Anne Glusker
Amanda Hepp Jackson
Megan Brown
Kaylee Zou
Laura Southern
Sydney Queen Detellis
Macey Howell
Catherine Bradshaw
Laura Gruszka
John Schline
Ali Kominsky
Zach Honey
Leslie York
Ashley Hong
Amanda Fink
Brittani Harris
Rachel McCain
Jennifer Williams

New Literary Agents – 2022 New Book Agents
Catharine Strong
Ilyana Rose-Davila
Laura Bardolph Hubers
David Bratt
Leslie Truex
Carol Woien
Ramona Pina
Debbie Alsdorf
Hannah Andrade
Dani Segelbaum
Monica Rodriguez
Maggie Sadler
Emma Konn
James Farrell
Halley Dunne Parry
Adrian Shirk
Kendall Berdinsky
Andrew Dugan
Karen Kilpatrick
Ana Crespo
D. Ann Williams
Leah Petrakis
Yona Levin
Kelly Karczewski
Kristy Cambron
Cora Markowitz
Andrea Comparato

Liseanne Miller
Liz Nealon
Anissa Dorsey
Mona Kanin
Ismita Hussain
Rick Lewis
Meera Thillainatesan
Cheyenne Faircloth
Doug Abrams
Lara Love Hardin
Rachel Neumann
Sydnie Thornton
Jane Chun
Shannon Lechon
Keir Alekseii
Elaine Rogers
Sarah Khalil
Annalise Errico
Lauren Bittrich
Regina A Bernard-Carreno
Max Dobson
Ian Shea
Jenniea Carter
Jordan Hill
Clara Chuiton
Dan Cramer
Katelyn Dougherty

Ian Kleinert
Stuti Telidevara
Jason Jones
Eve Adler
Jacklyn Saferstein-Hansen
Kristen Terrette
Jenna Land Free
Stephanie Phillips
Tabatha Pope
LaSheera Lee
Jilton Sharmayne Davidson
Sarah Leonard
Saint Gibson
Maria Bell
Leana Rupp
Abigail Varnado
Christie Megill
Tyler Bertola
Ali Park
Natalie Kimber
Jonathan Rosen
Elisa Houot
Allison Malecha
Natalie Edwards
Audrey Crooks
Madeline Ticknor
Sharon Norris Elliott

New Literary Agents – 2021 New Book Agents
Kevin O'Connor
Trinity McFadden
Desiree Wilson
Kayla Cichello
Alice Brinkman
Paige Terlip
Felice Laverne
Shauna Turnmire
Kayla Lightner
Caroline Wakeman
Kaitlyn Sanchez
Chelsey Emmelhainz
Alan Morell
Jazmia Young
Lauren Hall
Jonathan Agin
Emma Loy-Santelli
Dennis Schleicher
John Blasé
Colleen Martell, PhD
Isabel Mendía
Caitlin White
Katherine Odom-Tomchin
Isabel Kaufman
Janna Morishima
Tess Weitzner
Nicole Eisenbraun

Ernie Chiara
Sabrina Lundberg
Kristin Ostby
Bethany Fulk
Andrianna Yeatts
Lee O'Brien
Hannah Strouth
T.S. Ferguson
Stefanie Molina
Alina Mitchell
Delia Berrigan Fakis
Sera Rivers
Mel Parker
Shabnam Banerjee-McFarland
Jared Johnson
Madison Scalera
Annie Cronin Romano
Sarah Dillard
Mia Vitale
Charlotte Gillies
Juliana McBride
Sarah Stephens
Melanie Kroupa
Kimberly Peticolas
Vincent dePaul Lupiano
Rachel Altemose

Iwalani Kim
Bailey Tamayo
Alex Reubert
Gwyn Jordan
Amy Flynn
Lisa Amstutz
Chris Combemale
Michelle Hauck
Barbara Jones
Emelie Burl
Lauren Wendelken
Kate Ellsworth
Tara Severance
Elena Reiss
Spencer Hoeflich
Christy Ewers
Chad W. Beckerman
Nora Gonzalez
Rebecca Pratt
Erika T. Phillips
Sarah N. Fisk
Ameerah Holliday
Kima Jones
Lillian Mazeika
Lizz Nagle
Rebecca Eskildsen
Mary DeMuth

* * *
If you want to know more about new literary agents, established literary agents, or our book agents directory click here to access the Book Agent Directory section of this website.
* * *
* * *
Find a Literary Agent