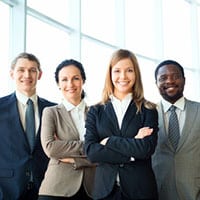 New Literary Agents – Find all new book agents here on this Literary Agents website created by a former literary agency owner, former AAR member, and former Marketing & Licensing Manager for a well-known publisher.
Scroll below now to find the most comprehensive, accurate, and up-to-date information for all new literary agents seeking new clients. You'll also find out how you can get free, instant access to the Directory of Literary Agents which has detailed profiles for every active literary agent, including the new literary agents listed below.
* * *
New Literary Agents – New Book Agents
Enter your first name and email address now for free instant access to the official Directory of Literary Agents™.  Join thousands of other subscribers and use what authors are calling "the most comprehensive–and accurate–book agent directory available in print or online" (maintained by a former NY Times bestselling literary agency owner and President).
.
Enter the Directory – New Literary Agents
Unfortunately, most book agent directories (print and online) are incomplete, outdated, and filled with mistakes. If you rely on those book agent directories to research new literary agents, you'll greatly reduce your chance of getting a top literary agency to represent you.
Our Directory of Book Agents is the most trusted source for book agent information available today. Get the most accurate information for all active book agents now (including new literary agents) by clicking here to access our Directory of Literary Agents.
Get free instant access to:
* Agent biographies for all new literary agents
* Agent photos for all new book agents
* Personal email addresses for all new literary agents
* Mailing addresses for all new publishing agents
* AAR membership status of all new book agents
* Preferred query letter methods (email, online form, postal mail)
* Links to agency websites for all new book agents in the directory
* Maps to offices of all new publishing agents in the directory
* Search the directory by book genres or categories (116 of them)
Here's what a sample book agent profile
from the agent directory looks like…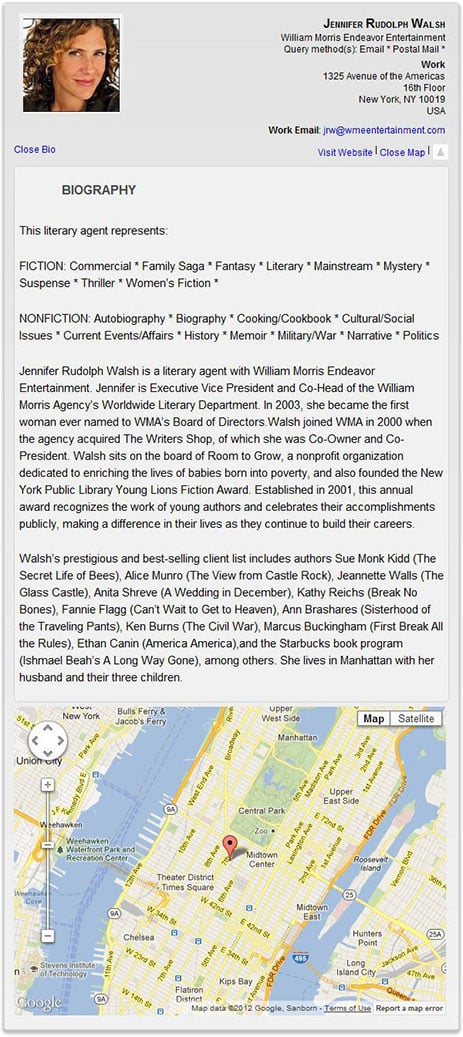 * * *
New Literary Agents – Important
Before you look at the list of new literary agents below,
there are three important things you need to know.
First, the new literary agents listed there aren't all just getting started as literary agents. In some cases, the "new literary agents" you see listed are simply new to the literary agency where they're working. In other words, they're already established but they recently stopped working at one literary agency to work at another one. We've included those agents on our list of new literary agents because most agents moving from one literary agency to another are on the lookout for new authors and clients.
The second thing you need to know about our list of new literary agents is that it's updated constantly and we keep the agent organized by year. So, if you're doing agent research and looking for new literary agents seeking clients, start with the new literary agents listed under the 2014 header. They're much more likely to be looking for new authors than new literary agents listed under previous years because the 2014 book agents moved or  just started agenting most recently. You should also note that all of the new literary agents listed below are sorted alphabetically, by their last names, and some of them appear as hyperlinks. That's because we're in the process of creating individual webpages for all of these new literary agents.
The third and final thing you need to know about the new literary agents listed here is that you can access detailed profiles for all of them in our Literary Agents Directory absolutely free. There you'll find complete literary agent bios, query format preferences, contact information, and more for every active literary agent (more than 1,000).
* * *
New Literary Agents – 2017 New Book Agents
Lorin Oberweger
Hannah Babcock
Greta Moran
Becky LeJeune
Aimee Ashcraft
Justin Wells
Kaitlyn Johnson
Andrew Chamberlin
Quressa Robinson
Kelly Van Sant
Heather Jackson
Gabrielle Piraino
Shana Kelly
Susan Graham
Kira Watson
Kathleen Schmidt
Lauren Bieker
Eric Lupfer
Samantha Wekstein
Erica Bauman
Rob Arnold
Sarah Bowlin
Nick Chiles
Ariel Foxman
Susan Zanger
Natascha Morris
Cynthia Ruchti
Kari Sutherland
Shaheen Qureshi
Meg LaTorre-Snyder
Stephanie Koven
Jessie Devine
Rica Allannic
Austin Miller
Sarah Fuentes
Erin McFadden
Jamie Chambliss
Caroline Eisenmann
Allison Hegan
Hillary Jacobson
Heather Karpas
Jessica Errera
Tom Mackay

Emma Borges-Scott
Robert Thixton
Larissa Helena
Trodayne Northern
Leslie Varney
Grace A. Ross
Katelyn Hales
Rubin Pfeffer
Melissa Nasson
Jennifer Kim
Wendi Gu
Christina Morgan
Jocquelle S. Caiby
Nell Pierce
Madelyn Burt
Lauren Lindsey White
Laura Usselman
Kathy Schneider
Keith Urbahn
Matt Latimer
Ariana Philips
Cari Lamba
Lucinda Karter
Dorian Maffei
Carolyn Savarese
Hilary Harwell
Ben Grange
Lee Sobel
Michael Lennie
Connor Eck
Lucinda Blumenfeld
Brianne Robinson
Stephanie Hansen
Jennifer Haskin
Quressa Robinson
Lori Nowicki
Claire Easton
Shadra Strickland
Jamie Vankirk
Abby Schulman
Brandie Coonis
Jenna Pocius
Ali Herring

Elizabeth Bewley
Sarah Landis
Rachel Ridout
Michael Caligaris
Paula Canal
Timothy Travaglini
Lucy Cleland
Hannah Fergesen
Sarah Bedingfiel
Adria Goetz
Chris Clemans
Blair Wilson
Jennifer Wills
William Reeve
Victoria Wells Arms
Keely Boeving
Cara Reilly
Adriana Stimola
Melissa Danaczko
Aemilia Phillips
Mohamed Shalabi
Rachel Horowitz
Nicola Barr
Whitney Gossett
Sarah Bolling
Libby McGuire
Julia Eagleton
Heather Tebbs
Catherine Hedrick
Wendy Goldman Rohm
Elizabeth Poteet
Bob Hostetler
Jeff Posternak
Alison Lewis
Kiele Raymond
Claire Roberts
Taylor Curtin
Jessica Spivey
Julia Masnik
Cherise Fisher
Kathleen Nishimoto
Michelle S. Lazurek
Hannah Mann

New Literary Agents – 2016 New Book Agents
Tina Wainscott
Fiona Kenshole
Andrea Cascardi
Lauren Spieller
Sarah Bush
Lenore Skomal
Rachel Crawford
Austin Wilson
Taylor Templeton
Jen Marshall
Cyle Young
Wendy Silbery Levinson
Stephanie Steiker
Kathleen Rushall
Teresa Kietlinski
Linda Epstein
Courtney Miller-Callihan
Allison Hunter
Elana Roth Parker
Renee Zuckerbrot
Duvall Osteen
Frances Coady
Rebecca Agnus
Priya Doraswamy
Elizabeth Copps
Clare Pelino
Kirsten Carleton
Stephanie Fretwell-Hill
Frances Black
Dawn Dowdle
Kelly Peterson
Vanessa Marie Robins
Steven Salpeter
Paul Stevens
Amaryah Orenstein
David Granger

Becky Sweren
Lauren Sharp
Susan Finesman
Katie Zanecchia
Hilary Claggett
Suzy Evans
Rebecca Bugger
Erica Rand Silverman
Alyssa Jennette
Dana Murphy
Jack Gernert
Katia Herman
Julie Stevenson
JL Stermer
Susan Finesman
Jess Dallow
Berta Treitl
Melissa Edwards
Lane Heymont
Helen Sweetland
Alice Whitwham
Alexa Stark
Chiara Rosati
Alexandra Franklin
Molly O'Neill
Eve Attermann
Nick Harrison
Andrea Morrison
Jordan Breindel
Latoya C. Smith
Amelia Appel
Ayanna Coleman
Sandra O'Donnell, PhD
Bridget Wagner Matzie
Janet Silver
Laura Rothschild

Janna Bonikowski
Peter Knapp
Barbara Casey
Teresa Kietlinski
Renee Fountain
Allison Hunter
Marya Spence
Damian McNicholl
Emma Hamilton
Nate Muscato
Maximilian Ximenez
Elana Roth Parker
Renee Zuckerbrot
Emilie Kormienko
Ashley Valentine
Nic Goodall
Amanda Jain
Alexandra Weiss
Victoria Doherty-Munro
Lori Gavlin
Stacey Graham
Erik Hane
Ed Maxwell
Sandy Harding
Mitch Hoffman
Jen Hunt
Kristy Hunter
Kim Blair McCollum
Lynn Haynes
Rob Kirkpatrick
Steve Ross
David Doerrer
Molly Moore
Mel Stinnett
Jennifer Gates
Lane Zachary

New Literary Agents – 2015 New Book Agents
Moe Ferrara
Matthew DiGangi
Angela Scheff
Veronica Park
Steven Harris
Gabriel Harris
Dana Newman
Ashley Collom
Michael Curry
Arielle Datz
Michael Hoogland
Erin Young
Deborah Warren
Bibi Lewis
Penny Moore
Jennifer Chen Tran
Penelope Burns
DongWon Song
Andrea Montejo
Liz Parker
Zoe Sandler
Stefanie Lieberman
Eve Porinchak
Megan Close
Lisa Abellera
Douglas Lee
Melissa Kahn
Linda Scalissi
Terrie Wolf
Lisa Jackson
Abby Saul
Cynthia Kane
Erin L. Cox
Annie Wilder
Anjali Singh
Jennifer Udden
Thomas Miller
Marlene Connor Lynch
Dan Raines
Devra Ann Jacobs
Caitlin McDonald
Stacia Decker
Eric Myers
Kemi Faderin
Amy Elizabeth Bishop
Mandy Hubbard
Brian Tibbetts
Amy Rosenbaum
Nadia Cornier

Cristi Marchetti
Veronica Goldstein
Annie Hwang
Dado Derviskadic
Adriann Ranta
Tricia Skinner
Leigh Eisenman
Tanusri Prasanna
Rachel Burkot
Claire Cartey
Anna Stein O'Sullivan
Kimberly Perel
Ginger Curwen
Kate Mack
Richard Florest
David Groff
Kerry D'Agostino
Bridget Smith
Lacy Lynch
Nena Madonia
Roger Freet
Ria Julien
Jessica Schmeidler
Kristyn Keene
Sam Morgan
Rebecca Scherer
Vicki Selvaggio
John Campbell
Sara Megibow
Rayhane Sanders
Caitie Flum
Faye Atchison
Patricia Nelson
Anna Olswanger
Christina E. Daigneault
Lucas Hunt
Linda Camacho
Kimberly Brower
Rick Margolis
Lori Kilkelly
Sarah Passick
Jenny Stephens
Liza Fleissig
Jeanie Loiacono
Mary South
Bridget McCarthy
Daniel Menaker
Amanda Rutter
Adrienne Rosado
Nan Vermylen Thornton

Bree Ogden
Alison MacKeen
Laura Mamelok
Faye Bender
Kent Wolf
Mary Ellen Gavin
James Rovira
Linda Loewenthal
Mark Reiter
Christopher Rhodes
Vaughne Lee Hansen
Sheri Mabry Bestor
Nan Vermylen Thornton
Albert Lee
Michelle Brower
Stephanie Delman
Arthur Klebanoff
Alice Speilburg
Amanda Leuck
John Maas
Leila Campoli
Essie White
Stacy Little
Rebecca Stead
Charlotte Gusay
Mallory C. Brown
Amanda O'Connor
Elias Altman
Nicole Tourtelot
Eric Myers
Stephanie Abou
Elisabeth Weed
Brettne Bloom
Ross Harris
David R. Patterson
Saba Sulaiman
Melissa Edwards
Heather Flaherty
Christopher Hermelin
Robert Fleck
Travis Pennington
Lisa Leshne
Tina P. Schwartz
Lane Heymont
Cindy Uh
Laura Crockett
Ruth Samsel
Alec Shane

* * *
If you want to know more about new literary agents, established literary agents, or our book agents directory click here to access the Book Agent Directory section of this website.