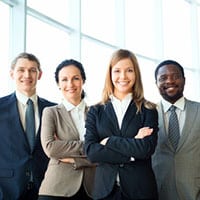 New Literary Agents – Find all new book agents here on this Literary Agents website created by a former literary agency owner, former AAR member, and former Marketing & Licensing Manager for a well-known publisher.
Scroll below now to find the most comprehensive, accurate, and up-to-date information for all new literary agents seeking new clients. You'll also find out how you can get free, instant access to the Directory of Literary Agents which has detailed profiles for every active literary agent, including the new literary agents listed below.
* * *
New Literary Agents – New Book Agents
Enter your first name and email address now for free instant access to the official Directory of Literary Agents™.  Join thousands of other subscribers and use what authors are calling "the most comprehensive–and accurate–book agent directory available in print or online" (maintained by a former NY Times bestselling literary agency owner and President).
.
Enter the Directory – New Literary Agents
Unfortunately, most book agent directories (print and online) are incomplete, outdated, and filled with mistakes. If you rely on those book agent directories to research new literary agents, you'll greatly reduce your chance of getting a top literary agency to represent you.
Our Directory of Book Agents is the most trusted source for book agent information available today. Get the most accurate information for all active book agents now (including new literary agents) by clicking here to access our Directory of Literary Agents.
Get free instant access to:
* Agent biographies for all new literary agents
* Agent photos for all new book agents
* Personal email addresses for all new literary agents
* Mailing addresses for all new publishing agents
* AAR membership status of all new book agents
* Preferred query letter methods (email, online form, postal mail)
* Links to agency websites for all new book agents in the directory
* Maps to offices of all new publishing agents in the directory
* Search the directory by book genres or categories (116 of them)
Here's what a sample book agent profile
from the agent directory looks like…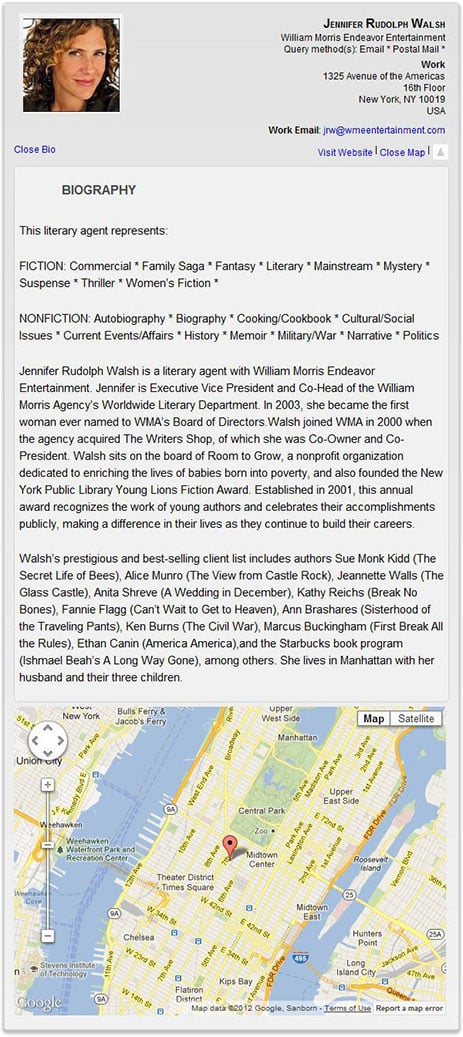 * * *
New Literary Agents – Important
Before you look at the list of new literary agents below,
there are three important things you need to know.
First, the new literary agents listed there aren't all just getting started as literary agents. In some cases, the "new literary agents" you see listed are simply new to the literary agency where they're working. In other words, they're already established but they recently stopped working at one literary agency to work at another one. We've included those agents on our list of new literary agents because most agents moving from one literary agency to another are on the lookout for new authors and clients.
The second thing you need to know about our list of new literary agents is that it's updated constantly and we keep the agent organized by year. So, if you're doing agent research and looking for new literary agents seeking clients, start with the new literary agents listed under the 2014 header. They're much more likely to be looking for new authors than new literary agents listed under previous years because the 2014 book agents moved or  just started agenting most recently. You should also note that all of the new literary agents listed below are sorted alphabetically, by their last names, and some of them appear as hyperlinks. That's because we're in the process of creating individual webpages for all of these new literary agents.
The third and final thing you need to know about the new literary agents listed here is that you can access detailed profiles for all of them in our Literary Agents Directory absolutely free. There you'll find complete literary agent bios, query format preferences, contact information, and more for every active literary agent (more than 1,000).
* * *
New Literary Agents – 2020 New Book Agents
Katherine Wessbecher
Chelsea Eberly
Kate Linnea Welsh
Nicole Tugeau
Susan C. Ingram
Laura Mazer
Logan Harper
Sulamtia Garbuz
Joyce Sweeney
Sara Pokorny
Helena Sandlyng Jacobsen
Kurestin Armada
Kelly Dyksterhouse
Kristina Slater
Greg Shaw
John W. Wright
Sam Farkas
Megan Burkhart
Gerrie Sturman
Stephanie Cardel
Karen Gormandy
Michaela Whatnall
Amy Levenson
Jas Perry
Kaitlyn Johnson

Iris Blasi
Barb Roose
Andrea Walker
Chelsea Hensley
Maria Rogers
Sabrina Taitz
Callie Deitrick
Sulamitia Garbuz
Marisa Cleveland
Sophie Pugh-Sellers
Jessica Friedman
Ashley Herring Blake
Kim Lombardini
Jackie Ashton
Michael Nardullo
Evan Goldfried
Megan Barnard
Del Duduit
Robbie Anna Hare
Susan Nystoriak
Clare Mao
Pete Ford
Michael Signorelli

Kelsey Klosterman
Renae Moore
Martha Wydysh
Nora Long
Shannon Gallagher
Reeves Hamilton
Alice Fugate
Bonnie Swanson
James Mustelier
Eryn Kalavsky
Lori Steel
Katie Salvo
Courtney Paganelli
Will Morningstar
Larissa Melo Pienkowski
Jori Hanna
McKenzi Nevins
Ronald Goldfarb
Aften Brook Szymanski
Miranda Paul
Flavia Viotti
Aida Z. Lilly

New Literary Agents – 2019 New Book Agents
Rachel Kim
Jon Michael Darga
Maggie Cooper
Rosie Jonker
Maria Napolitano
Michele Martin
Jaclyn Gilbert
Jaime Chu
Bobby O'Neil
Eve MacSweeney
Italia Gandolfo
Thomas Goff
Ben Miller-Callihan
Jonathan Cobb
Ellen Goff
Stephanie Kehr
Alyssa Roat
Chrysa Keenon
Patricia Riddle-Gaddis
Cassie Mannes Murray
Sharon Chudnow
Erin Clyburn
Ashley Lopez
Rachel McMillan
Jamie Carr
James McGowan
Maile Beal
Agnes Carlowicz
Jennifer Grimaldi
Katelyn Uplinger
Kerstin Wolf
Matt Belford
Chris Rogers
Dabney Rice
Garrett Alwert
Jan Baumer
Jessica Felleman
Claire Harris
Hannah Brattesani
Patrice Caldwell

Naomi Eisenbeiss
Ian Bonaparte
Maeve Lysaght
Elle McKenzie
Kianna Shore
Leah Pierre
Trevor Ketner
Samantha Fabien
Ronald Gerber
Erica Christensen
Jessica Reino
Charlotte Wenger
Melanie Castillo
Jennifer Weis
Geoffrey Stone
Lauren Manoy
Abigail Frank
Charles Kim
Kelly Thomas
Meher Manda
Max Sinsheimer
Megan Manzano
Dominic Yarabe
Joseph Perry
Amy Stapp
Alexandra Levick
Karly Caserza
Rhea Lyons
Kristin van Ogtrop
Chad Luibl
Alicia Brooks
Masha Gunic
Timothy Barry
John Butman
Lori Kilkelly
Lynn Johnston
Jana Hanson
Lauren Miller
Elizabeth Bennett
Tara Gilbert

Devin Ross
Laura Lee Mattingly
Kate Woodrow
Anne Tibbets
Samantha Bagood
Nathan Hedrick
Heather Cashman
Jacqueline Lipton
Shari Maurer
Tia Mele
Ann Tanenbaum
Zoë Plant
Laurel Symonds
Stephanie Alton
Yvette Greenwald
Sam Roen
Laurie Chittenden
Marisa Zeppieri
Lindsey Smith
Allison Hellegers
Noa Rosen
Ian McMahon
Nicole Cunningham
Samantha Morrice
Christine J. Lee
Lara Allen
Peter Beren
Michael L. Joy
Jen Nadol
Jess Hoare
Carole Jelen
Margot Maley Hutchison
Jill Kramer
Johanna Maaghul
Bill Gladstone
Kristen Moeller
Michael Gosney
Susan Canavan
Janine Kamouh
Caitlin Mahony

New Literary Agents – 2018 New Book Agents
Kiana Nguyen
Leslie Zampetti
Destiny Modeste
Ann Leslie Tuttle
Kieryn Ziegler
E.J. McCarthy
Kevin Lewis
Elizabeth Resnick
Alyssa Taylor
Sonali Chanchani
Kim-Mei Kirtland
Claire Draper
Claire Friedman
Michael Mungiello
Jessica Mileo
Maria Whelan
Maggie Kane
Whitney Ross
Kimberly Jago
Matt Carlini
Colleen Oefelein
Marlo Berliner
Savannah Brooks
Zabé Ellor
Julia Livshin
Oliver Latsch

Lauren Scovel
Matthew Huff
Elizabeth Rudnik
Britt Siess
Leslie Meredith
Amy Brewer
Patty Carothers
Jordan Hamessley
Jennifer Thompson
Isabelle Bleecker
Nathan Vogt
Alexander Novotny
Tara Gelsomino
Anne-Lise Spitzer
Ann Rose
Emma Sector
Dara Kaye
Samantha Isman
Eva Scalzo
Charlene Visco
Danielle Bukowski
Jaidree Braddix
Anna Petkovich
Peter Ryan
Susanna Lea

Sarah Manning
Heather Carr
Matthew Valentinas
Alexander Field
Lesley Sabga
Lynnette Novak
Toni Lopopolo
Tina Pohlman
Shannon Orso
Melissa Gaines
Nicki Richesin
Kelli Martin
Emily Williamson
Johanna V. Castillo
Lindsay Davis Auld
Justin Brouckaert
Luba Ostashevsky
Karyn Fischer
Cynthia Segraves
Cortney Radocaj
Kat Kerr
Tess Callero
Sarah Gerton
Julie Dinneen
Deborah Hofmann

* * *
If you want to know more about new literary agents, established literary agents, or our book agents directory click here to access the Book Agent Directory section of this website.
* * *
* * *
Find a Literary Agent