This article was revised and expanded on 07.29.17
How important is social media for authors — as it relates to literary agents and publishers? As a former literary agent turned author coach, writers are always asking for my take on this particular part of the author platform discussion. Writers want to know: Are literary agents and publishers prejudiced against authors who don't have a significant amount of friends, fans, and/or followers on social media? What's the "magic number" of people I need in my social network to impress literary agents and publishers? Which social media platforms are best: Facebook, Twitter, LinkedIn, etc.? What should I post on my social media account(s)? And, Are there any special tricks or shortcuts to make the process of being active on on social media easier, more enjoyable, and more effective?
This article answers
those questions,
and more…
The short answer to the question of whether social media is important for authors… is yes. That's because, in most cases, you can increase your chance of getting a top literary agent, publisher, and/or book deal if you have one or more social media accounts. You can increase your chances with agents and publishers even more, if you have a decent number of connections.
But…
Before I tell you more about social media, let's about your author platform in general. The big picture. In other words, your social media presence (or lack thereof) is simply part of your "author platform".
Social Media for Authors – What Is Author Platform?
Authors are, understandably, focused mostly on their books. Thinking about them. Writing them. And, when it comes to trying to get an agent and/or publisher, talking about them.
That's because most authors know that getting a top literary agent and/or publisher isn't possible unless you have a good book. What you might not realize, however, is that your book is only half of what you're selling.
You're also
selling Y-O-U.
At least you SHOULD BE selling you
when you pitch your project.
In three parts…
* * *
Part 1: What Type of Author Are You?
You don't need to be the CEO of a big business or have a Ph.D. to be a successful author. But smart agents and publishers are looking for answers to the following questions when they read your pitch materials and/or speak with you: Are you educated about how the publishing industry works? Can you think and communicate clearly? Are you someone who's easy to work with? What have you done, in any area of your life, that shows you understand how to perform, and achieve things, at a high level? Are you confident? Are you coachable? Do you appreciate the power that agents and publishers have to help you reach your goals? Have you educated yourself to become a better writer and master your craft?
* * *
Part 2: What Qualifies You to Write a Book Like Yours?
At this moment, there are 7.4 billion people in the world. Literary agents want to know: Why are you the best person on the planet to write your book? Why are you the most logical choice? Why are you the most qualified? Some books require a better answer to those questions, but many authors don't even attempt to answer them.
* * *
Part 3: What Proof Do You Have that You Can Help Sell Books?
Every author wants to believe that selling books is the publisher's job. But it's up to both of you. If you have a traditional publisher, you're partners. You invest a lot of time to write the book; your publisher invests a lot of money to publish the book. Once the book is in print, you'll be "in bed" with your publisher and your book is a baby you both need to raise. That means, if you want to "get married" to a publisher, you need to prove you're going to be a good parent (be able help get exposure and sell books).
The good news is there are many ways you can help "sell" books that don't require you to be (or feel like) a salesperson. You can help sell books without being pushy, embarrassing yourself, or leaving your house. You can even help sell books if you're introverted, don't like people very much, and don't have social skills. You simply need to increase your book's visibility… and there are lots of ways to do that.
Social media
is simply one way.
Other ways to get exposure for your books include: getting testimonials from famous authors, celebrities, or other influential people; getting commitments from influential people to help promote your book in other ways; having a website and/or blog with decent traffic; having a large email list; having your own radio show, TV show, or syndicated column; media appearances; speaking engagements; pre-sale commitments from businesses, groups, or other organizations; hiring your own publicist; etc.
Now, don't panic.
You don't need to do all those things (or any of those things) to get a top literary agent, publisher, and/or book deal.
Your book is what
matters most.
But…
The more you do to improve your platform,
let's just say, it can't hurt.
Having a great (or even decent) author platform will help you stand out from the crowd of other authors.
Social Media for Authors – One of the Best Ways to Improve Your Author Platform
I've sometimes seen agents decide to represent certain authors, in part, because of those authors' presence on social media. Nine times out of ten, part of an agent's decision to represent you is going to be influenced by how attractive your author platform is. It isn't usually the deciding factor — but it is a factor.
Think about it…
You probably already know that the best agents get more than 1,500 queries a month. So, if an agent gets two different queries from authors who've written books in the same genre, and both projects are great, but one author has a big social media following and the other one doesn't, who do you think the agent's going to choose?
Just remember that you DON'T need to be on social media to get a top agent and/or book deal. Your book is what matters most. I've helped authors with zero platform get top agents and book deals, but… it's a lot EASIER to get what you want if you have some type of platform. And social media is a great place to get started since it doesn't cost anything (unless you want to spend money on it) and you can do it your underwear.
How Many Followers Do You Need to Impress Literary Agents and/or Publishers?
That depends.
Every situation
is different.
But here are
my guidelines.
Less than Two Thousand Followers
If you have less than two thousand followers on all your social media platforms combined (Twitter, Facebook, LinkedIn, etc.), you should probably just say in your query letter that you're active on social media and/or you've just gotten started, but you know it's important so you'll be putting more time into it going forward.
2K-5,000 Followers
Not bad. Now you can say that you have thousands of followers on social media. And, since you have a little bit of a following already, if you say you'll do anything and everything to get the word out about your book(s), agents and publishers will believe you might be able to back it up.
5K-20,000 Followers
Better. If you have that many followers, you should certainly mention it in your query. Just keep in mind that even if you have a respectable following like this, it doesn't guarantee anything. These numbers aren't bad, but they're not going to get agents and publishers fighting over the chance to represent you, either.
20K-100,000 Followers
Good. If you have this many followers on social media, you're going to be perceived as a person of influence. If a decent percentage of your following buys a copy of your book when it comes out, that could be the difference between your book selling well or not so well. These types of numbers could easily tip things in your favor.
100K-250,000 Followers
Great. If you have this many followers, you've probably worked your butt off to make other areas of your author platform strong as well. Congratulations. There's still no guarantee you're going to get a top agent, publisher, and/or book deal though. You'll still need a good book. But no one is going to tell you that your platform isn't good enough.
250,000+ Followers
Excellent. If you have this many followers, you're the type of person that might be approached by agents and/or publishers. That's right, they might seek you out. In fact, they might offer to help you develop and/or write your book… and a publisher might hire a ghostwriter or freelance editor to help you get it done. Why? You're a better investment, less of a risk. Agents and/or publishers KNOW based on your numbers that you'll be able to help sell a lot of books.
Is That Type of Social Media Stigma Fair?
You tell me…
If I was working with you as your author coach and I told you: 1) There are two agents who want to represent you, 2) Both are passionate about your book, and 3) One agent has more than 100,000 followers on social media but the other one only has a couple hundred (or isn't on social media at all), who would you most want to work with?
That's what I thought.
If you're human you're going to assume (consciously or subconsciously) that the person with the huge following is more successful and influential. You're also going to wonder if the person with the big following is more likable and pleasant to interact with? After all, those are qualities that help people become "popular" in the first place, right?
Admit it, we all judge other people (rightly or wrongly) by outward signs of success. It's not a character flaw. It's one of the ways we quickly navigate our busy lives and determine who we can trust.
So…
Why don't you join me, and we'll build our social media
followings and platforms together?
I finally stopped making excuses for not being active on social media in August 2015. I dusted off a couple social media accounts that I had set up in 2009 but never used. To start, I decided to get followers on one of my Twitter profiles and a Facebook page. Through the remainder of 2015 and the early part of 2016, I got more than 10,000 likes on Facebook and 25,000 followers on Twitter. By the end of 2016, I had approximately 150,000 people on Twitter (on three different accounts).
I'm telling you that to encourage you
and show you what's possible.
No, it's not easy.
And yes, it's
time-consuming.
But…
It's also enjoyable once you
get through the learning curve.
And, it's helping me
reach my goals.
How about
you?
During the first four years of my business as an author coach, I ignored social media because, like you, I have a million other things going on that are more important. But I've also had people challenge my credibility because I didn't have a presence on social media (you're not the only one who needs a strong platform). Authors would say things to me like, "If you're such a publishing guru, why don't have more than 453 people following you on Twitter?"
I'd reply and say things like:
* I have a big following on my email list, that's what counts
* I don't have time for social media and no one cares what I ate for breakfast
* I'm too busy creating content for my websites and my (usually) weekly newsletter
* Taking care of my author coaching clients is more important than "tweeting"
* People say stupid things online and I don't want to be parts of people's snarkiness and negativity
* None of us should be judged by the size of our social media following
But now, all that sounds lame.
Like excuses.
It's okay…
I can admit it now, since I now
have 150,000+ people in my network.
You might not want that many,
but how many do you want?
Pick a number and then, before you spend any time (or more time) on social media, let's talk about how many social media accounts you should have. In other words, how many social accounts do you need… to get what you want with literary agents and publishers? Can you have just one, or do you need more?
* * *
How Many Social Media Accounts Do You Need as An Author?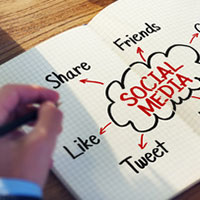 Literary agents and publishers won't care (at all) if you have just one social media account (or 21). It's your total number of friends, fans, and followers that counts. But, there is an advantage to having more than one social media account. That's because it's easier to increase your total number of friends, fans, and followers if you have more than one account.
For example, if you have 2,000 people on your Facebook page, and you invite those people to join you on one or more other social media accounts such as Twitter, Google+, LinkedIn, goodreads, Instagram, or Pinterest… many of those people will join you there as well. That means you can increase your total number of friends, fans, and followers dramatically, in a short period… without actually getting any additional people to join your network.
Does that make sense?
In other words, if you invite 2,000 Facebook friends to join you at two other social media accounts that you have, and 25% of those people did so, you will instantly have 3,000 friends, fans, and followers on social media instead of just 2,000. Remember, it's the total number of social media friends, fans, and followers combined that matters.
Now…
* * *
Which Social Media Platforms Are Best for Authors?
Like many other things in publishing, it depends.
Every author is different.
But, let's say that your primary goal is to get the maximum number of friends, fans, and followers on social media… to impress literary agent and publishers… and that you want to do it with the smallest investment of time and/or money… and you want to do it with the least amount of learning curve and headaches.
Most authors can agree on that.
You'll find my recommendations to reach those goals below, informed by my personal experience and what I've seen with my author coaching clients. Along with my recommendations, you'll also see that I've included a brief overview of each platform… and some pros and cons that you might find valuable.
Facebook
Facebook (FB) is used by more authors than any other social media platform. About 40-50% of all the authors on my email list are on Facebook. That's partly because FB was one of the first social media platforms to emerge in the market in a big way, after it's inception in 2004. But there are other reasons as well. First, you can have a "personal" FB page and/or a more promotional book or "business" page(s). You can also start and/or join groups. And, FB personal pages are a great way to stay connected with real-life friends and family. In that way, FB can be more intimate and personal that what you might experience on other social media platforms. For all the reasons I just mentioned, FB appeals to both younger and older authors (unlike social media platforms like Twitter, which are more skewed toward a younger audience). Another benefit of FB is that you're not limited to 140 characters when you post things like you are on Twitter. One downside to FB, is that the learning curve is steeper than some social media platforms. And, FB now charges money to share posts with all your friends, fans, and followers. If you don't pay, they'll just show your posts to a small percentage of your following. However, if you have money to invest in growing your social media platform, running ads on FB will help you get more views and "likes" for your page in less time.
Google+
Google+ is a lot like FB. It's not as popular, but it's hosted by Google and, as a result, if you use this social media platform, your postings are more likely to show in Google search results. That could be beneficial, not so much if/when you're trying to get a literary agent, but if/when you're trying to sell books.
LinkedIn
LinkedIn is a lot like FB in that you can have a personal page, a "business" page, and/or groups. But it's a more "professional" environment for "businesspeople". Many people use LinkedIn as something of a virtual resume and/or business introduction platform, and many companies use LinkedIn to find employees and other people for business ventures and professional expertise.
Twitter
Twitter is the second most popular social media platform for authors. About 30-40% of all the authors on my email list are on Twitter. For many reasons, Twitter is my #1 recommended social media platform for authors. Why? First, your messages on Twitter (tweets) will be sent out to all your friends, fans, and followers… and you don't have to pay for it (unlike FB). Second, each tweet is limited to 140 characters. In other words, you don't have to spend a lot of time writing something… to post something. Third, there are several "tools" that you can use to manage your Twitter account(s) that will save you a lot of time and allow you to grow and manage your following a lot faster than you'll be able to do on other social media platforms. Tools like Twitter's very own TweetDeck (free), and third-party applications such as Tweepi and Crowdfire (cost money but a good value). Twitter also lets you run ads (like FB), and you can pay for a "follower" campaign that will suggest certain types of people (like your potential readers) follow your Twitter account. By the way, this isn't the sleazy type of thing you might have seen online that says, "Get 1,000 followers for $20", and subsequently results in Twitter shutting down your account. It's a genuine thing, through Twitter.
goodreads
goodreads is great because you don't have to post anything on your goodreads account. You can simply highlight books you've read (and that you're currently reading, if any) that you like. You can also, of course, promote your own books.
Instagram
Instagram is a social media platform that's focused exclusively on photos. If your'e not a fashion mogul, beauty expert, or cookbook author, you might have a hard time (at first) figuring out what to post on Instagram. But, if you run into that problem on any social media platform, all you have to do is look at what other people (in your genre) are posting for ideas.
Pinterest
Pinterest is a social media platform that's focused exclusively on images. Not just photos. In other words, you can share: illustrations, infographics, doodles, and anything else your creative mind can conjure up. Pinterest also has easy-to-use tools that allow you to post images to your Pinterest account when you find something you like on the Internet.
* * *
What Should You Post on Social Media?
I'm going to post information about this topic here in the coming weeks, so, if you're already on my email list, stay tuned because I'm going to give you ideas to jump-start or reinvigorate your social media efforts… and make the process of putting yourself out there on social media less intimidating. If you're not on my email list yet, click here to become a member and get free, instant access to all my resources to help you become a bestselling author.
Of course, you should also…
* * *
Join Me on Social Media!
Here are my links…
Twitter
https://twitter.com/Literary_Agents
https://twitter.com/WritingQuotes_
https://twitter.com/MarkMalatesta
Facebook
https://www.facebook.com/LiteraryAgentUndercover
https://www.facebook.com/MarkMalatesta
LinkedIn
https://www.linkedin.com/in/markdmalatesta
Google+
https://plus.google.com/+MarkMalatestaBooks
goodreads
http://www.goodreads.com/user/show/61274292-mark-malatesta
Instagram
https://www.instagram.com/markdmalatesta/
Pinterest
https://www.pinterest.com/markmalatesta/
And…
If you haven't already done so, read this
2-part article about Author Platform.
See you online!
–  Mark