The Latest Publishing Industry Statistics – What are the latest publishing numbers according to our book agent blog? That depends. There are a lot of different figures I could share with you. For example, I could tell you how many books are published per year in the US (more than 300,000). I could reveal the median amount of money that the average writer makes each year ($55,420). Or, I could tell you that print books are still selling more than eBooks (surprising, but true).
The problems is that those aren't the numbers you need
to know about to become a bestselling author.
You simply need to know
about your numbers.
Before I tell you what your publishing numbers are, however, I need to explain
why numbers are the only way to measure your success as an author.
You see…
Numbers don't lie, we do.
Yes, you heard me.
You're a liar.
So am I.
I'm not saying you're a bad person, but there's a very good chance you've been lying to yourself (at least on some level) about your progress as an author. And, you'll probably never become a bestselling author if I don't tell you that and get you to fix it.
That's why I wrote
this article…
To help you
get real.
You see, my #1 job as your Book Marketing Coach and mentor isn't to give you insider information and inspire you. My main job is to get you results. In other words, I measure my success by whether I get talented authors (like you) from "Point A" (Aspiring Author) to "Point B" (Bestselling Author).
Nothing else matters.
It's all fluff.
Unfortunately, to help you become a bestselling author, I can't just give you sunshine and lollipops. I also have to tell you difficult truths, hold you accountable, and challenge you. That's the only way you're going to be, do, and achieve more as an author.
Let me give you an example to help you understand what I mean. The way I see it, if I share one of my personal struggles with you (about getting real with myself), it might make it easier for you to get real with yourself.
* * *
My Story – Let Me Pump You Up
A little over a year ago I decided that I wanted to be healthier and look better (euphemism for "lose weight and get ripped"). I was eating too much junk food at the time and I was completely inactive. I was also 30 pounds heavier than I should have been—on the verge of needing to buy new pants (again).
Instead, I bought a gym membership
and drastically changed my diet.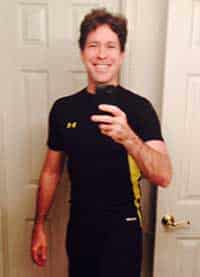 I did really well for about ten months. I was strict with my diet, eating things that tasted great (but were healthy). I went to the gym six days a week. And I had a balanced workout routine, combining weight training with cardio. I lost 80% of the weight I was trying to lose. And I put on some muscle.
But then something happened…
I slowly but surely started slacking off. A little less cardio. Slightly bigger food portions. And extra snacks. At the same time, I started making excuses for why I hadn't yet reached my body weight and strength goals.
I'm doing the best I can… I can't do more… I'm too busy to put in the extra time… I don't have the right genes or body type… It's too late for me to create my dream physique… I'm 43 years old… and I have a thyroid condition!
But then…
A few weeks ago
I was challenged.
My wife and business partner (Ingrid Elfver) posted several videos online in a free training she was doing called, No Excuses—Just Results. I watched the videos and they gave me a huge mental boost, but they also forced me to "get real" with myself about my workout numbers:
* The number of calories going into my body each day
* The number of calories I was burning each week doing cardio
* The number of notches I was using on my favorite belt
* And the numbers on my scale which I'd stopped using
In short…
I got
embarrassed.
I got
angry.
And then,
I got going.
I recommitted myself to my workout goals and decided to live a "No Excuses—Just Results" life when it comes to health and fitness. Since then I've been brutally honest with myself about what I'm doing (and not doing).
And I'm finally reaching
my ultimate goals.
What about you?
When it comes to your big goals like getting published, becoming a bestselling author and/or staying healthy long enough to see your books get published… are you really doing the right things.
Or…
Are you
making excuses?
Are you at 100%?
Or just 80%?
Now…
Here's my
challenge for you.
These are the publishing numbers I told you I was going to share. Your publishing numbers. These are the only numbers that matter if you're serious about becoming a published and/or bestselling author.
* * *
Your Publishing Numbers
* How many hours a week do you write and/or edit your work?
* How many books have you finished (not just started)?
* How many query letters have you sent out this year?
* How many literary agents asked to read more material based on your query?
* How many literary agents offered to represent you?
* How much money have you invested in yourself as an author to improve your craft and/or help you get published?
* How much money have you made in the last twelve months as an author?
* How many copies of your book(s) have you sold?
It really is
that simple.
No excuses,
just results.
Simply thinking about writing
(or even writing itself)
isn't enough.
To illustrate the point…
I see a lot of people at the gym every day. Most of them don't look any different now than they did when I first saw them over a year ago. Why? They simply don't realize that what they're doing is good–but it isn't good enough.
Unfortunately, no one
is there to tell them.
But, I'm
telling you…
The road to obscurity is littered
with aspiring authors
who only did
80%.
Don't be
one of them.
* * *
Action Steps to Become a Published and/or Bestselling Author
1. Click here to read another popular (and polarizing) article of mine about Making Money As An Author. It has 131 comments so far because authors who've read it either loved it or hated it.
2. Click here to jump-start your publishing goals by signing up for Ingrid's free No Excuses—Just Results Video Training. Ingrid's a master at motivating anyone (even A-list celebrities) to step up their game.
3. Click here to Post a Question for Me about how to write, publish and/or promote your book (also free).
4. Admit the limitations of FREE training and support—and invest in yourself. Take your writing more seriously. Treat it like a business instead of a hobby by clicking here to sign up for an introductory coaching call with me so I can really dig into your pitch and project, and help you get published as your Book Marketing Coach (I think you know by now that I do everything 100%). Check out these Success Stories to see what other authors are saying about their experience.
And remember…
Getting published isn't luck,
it's a decision.
– Mark



* * *
* * *
Find a Literary Agent