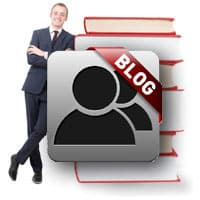 Literary Agent Blogs – Which ones are best? Take a look at our short list below to find out which book agent blogs are getting the most attention… based on the quality of their content, the frequency of their posts, and the personalities of their authors.
Just make sure, if you haven't already done so, that you also click here for free instant access to our free audio and article training about Getting a Literary Agent.
* * *
Literary Agent Blogs –
Top 10 (in no particular order)
* * *
Carly Watters 

– Top Literary Agent Blogs
Carly Watters hasn't been a book agent long, but she has a lot of helpful information for authors, making it impossible to leave her off our list of the best literary agent blogs. Carly Watters is a publishing agent with P.S. Literary Agency. She participates at lots of writers' conferences, and her blog has appeared on the Writers' Digest magazine list of 101 Best Websites for Writers.
Click here to visit Carly Watter's Book Agent Blog.
* * *
Andy Ross 

– The Top Literary Agent Blogs
Andy Ross and his literary agency represent a wide range of book genres including: literary fiction, children's books, young adult fiction, narrative non-fiction, journalism, history, science, religion, and cooking. In other words, the content on his blog appeals to most authors. Andy is a member of the Association of Author Representatives (AAR). And, prior to opening his own literary agency in 2008, Andy was the owner of Cody's Books in Berkeley, California.
Click here to visit Andy Ross' Book Agent Blog.
* * *
Nathan Bransford

 

– Best Book Agent Blogs
Nathan Bransford appears on our list of top literary agent blogs, even though he's a former agent (Curtis Brown). Nathan lives in Brooklyn and he's a middle-grade novelist, author of of Jacob Wonderbar and the Cosmic Space Kapow (Dial, May 2011), Jacob Wonderbar for President of the Universe (Dial, April 2012) and Jacob Wonderbar and the Interstellar Time Warp (Dial, March 2013). One of the reasons Nathan's website is on our list of top literary agent blogs is due to what his readers refer to as his "uniquely balanced perspective, upbeat attitude, and sensible knowledge."
Click here to visit Nathan Bransford's Book Agent Blog.
* * *
Kristin Nelson 

– The Best Literary Agent Blogs
Kristin Nelson is the owner of Nelson Literary Agency and her blog is called Pub Rants. She describes her literary agent blog as a very nice book agent indulging in polite rants about queries, writers, and the publishing industry. Kristin has one of the most popular literary agent blogs and she started her literary agency in 2002 when digital publishing was starting to take over traditional publishing.
Click here to visit Kristin Nelson's Book Agent Blog.
* * *
Janet Reid

 

– The Top Book Agent Blogs
Janet Reid is a publishing agent with FinePrint Literary Management in New York City. When it comes to literary agent blogs, hers is no-nonsense (some say blunt and brutal). Janet shares insider information that's always quick and to the point. She also posts frequently on Query Shark, a website where you can submit fiction queries to be critiqued. Janet specializes in crime fiction and she has several posts labelled "query pitfalls" and "annoy me" making hers one of the more popular literary agent blogs.
Click here to visit Janet Reid's Book Agent Blog.
* * *
Chip MacGregor

 

– Best Blogs By Literary Agents
Chip MacGregor is the founder of MacGregor Literary in Oregon. His informative website is the reason he appears on our list of top literary agent blogs. Chip has a lot of knowledge about the publishing industry—from book development to writing, acquisition to production, marketing to sales. Chip has secured more than 1,000 book deals for authors with all of the major publishers in both ABA and CBA (The Association for Christian Retail). Readers rank Chip as having one of the top literary agent blogs because he enjoys helping authors create great books that make a difference in the world.
Click here to visit Chip MacGregor's Book Agent Blog.
* * *
Rachelle Gardner 

– Most Popular Literary Agent Blogs
Rachelle Gardner is a popular publishing agent with Books and Such Literary Agency in Colorado. Rachelle's agent blog shares her perspective and insights on books, writing, and the publishing industry. Rachelle is on our list of top literary agent blogs because she posts articles five days a week and she's really good at stimulating discussions. Rachelle is knowledgeable about Christian and general markets.
Click here to visit Rachelle Gardener's Book Agent Blog.
* * *
Dawn Frederick 

– Top Literary Agent Blogs
Dawn Frederick is the founder of Red Sofa Literary Agency. Her quirky and eclectic blog provides lots of general advice for writers, submission tips, and interviews with authors and publishing insiders. Dawn believes "the best ideas come via engaging conversations and over good coffee." She brings a broad knowledge of the book business to the table—with multiple years of experience as a bookseller in the independent, chain, and specialty stores; an editor for a YA publisher; and a published nonfiction author.
Click here to visit Dawn Frederick's Book Agent Blog.
* * *
Noah Lukeman 

– The Best Literary Agent Blogs
Noah Lukeman answers questions about publishing and the craft of writing on his Ask a Literary Agent blog. Although Noah doesn't post frequently on his blog, there is a lot of valuable information to be found there. He is the President of Lukeman Literary Management. And his impressive client list includes winners of the Pulitzer Prize, Pushcart Prize, American Book Award, finalists for the National Book Award, major celebrities, New York Times bestsellers, and faculty of universities including Harvard and Stanford.
Click here to visit Noah Lukeman's Book Agent Blog.
* * *
Marisa Corvisiero 

– Top Literary Agent Blogs
Marisa A. Corvisiero brings a unique twist to her literary agency blog because she's not just a book agent. She's also an attorney. Marisa has held positions in several law firms and companies, and she's founder of The Corvisiero Law Practice, P.C.  Prior to founding her own literary agency, Maria worked with the L. Perkins Agency. In addition to authors, Marisa represents authors, cartoonists, and illustrators.
Click here to visit Marisa Corvisiero's Book Agent Blog.
* * *
Which Literary Agent Blogs
Are We Missing?
Are there any book agent blogs that you think should be on this list, that I left out? And, what do you think about the literary agent blogs that are on this list?
Post  your comments and
questions below…
– Mark



* * *
* * *
Find a Literary Agent