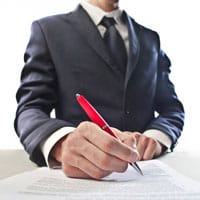 Sample literary agent contract clauses are listed below – all of the clauses you can expect to see in your literary agent agreement. This article is part of an 8-part series called Tips for Hiring a Literary Agent. If you don't already have one or more literary agencies offering you representation, and you want to change that, click here to read my How to Get a Literary Agent Guide.
* * *
Sample Literary Agent Contract Clauses
* * *
Clause 1 – 

Sample Literary Agent Contract
Parties Involved
This Agreement describes the understanding between [insert name of agency] ("Agency") and [insert name of author] ("Author"), as of [insert date].
* * *
Clause 2 – 

Sample Literary Agent Contract
Representation
The Agency is hereby exclusively authorized to seek a publisher(s), a buyer(s) of film rights, and a buyer(s) of all other rights (all herein referred to as "Publishing Rights") associated with any and all of the Author's book length works, including "[insert book title here]" (herein referred to as the "Project").
* * *
Clause 3 – 

Sample Literary Agent Contract
Term
The term of this Agreement is 12 months and it shall include all business associated with the Project, even for contacts and submissions made prior to this Agreement by Author and/or Agency). The Agency agrees not to accept any deal or license without first consulting with and getting the Author's permission to accept such a deal.
* * *
Clause 4 – 

Sample Literary Agent Contract
Renewal
Such authorization will automatically continue after the term of this Agreement unless either party terminates the Agreement according to the termination clause below.
* * *
Clause 5 – 

Sample Literary Agent Contract
Termination
After 12 months, this Agreement can be terminated in writing by either party with 30 days written notice. In the event of termination the Agency shall remain entitled to due commissions which may result from efforts implemented prior to the termination of this Agreement, and will remain entitled to all other due monies as stated in this Agreement.
* * *
Clause 6 – 

Sample Literary Agent Contract
Assignment
Neither this Agreement, nor the rights of the parties hereunder, shall be assignable, and any purported assignment shall be null and void, except as follows:
Either party shall have the right to assign any monies due that party, subject to the rights of the non-assigning party;
The Agency may assign this agreement in its entirety in the event of a sale, merger, or reorganization of substantially all of the Agency's business.
* * *
Clause 7 – 

Sample Literary Agent Contract
Commission
Agency will be the Agent-of-Record for the Project's income-producing duration and will irrevocably keep 15% of all income relevant to the sold Project. The due Agency commission will also pertain to all of the Project's subsidiary rights sales, whether sold by the Agent, Author, or Publisher. In the event the agency uses a subagent and the subagent is due a commission, the Agency commission for such will be 10%, and the subagent's commission will not be more than 10%.
* * *
Clause 8 – 

Sample Literary Agent Contract
Payments
All Project income will be paid by the publisher to the Agency. The Agency will pay the Author all due monies within seven (7) days after receipt by Agency and bank clearance, with full accounting provided. At the Agency's discretion there may be an Agency Clause in the Publisher contract stating the Agency's status.
* * *
Clause 9 – 

Sample Literary Agent Contract
Expenses
The Agency will be entitled to receive reimbursement from the Author for the following expenses relevant to its representation of the Project: Manuscript/proposal copying costs; necessary overnight deliveries; postage and handling for manuscripts; foreign shipping and communication costs. All other expenses are subject to Author's approval. An itemized accounting and records of all such items will be maintained by the Agency. Agency will only request reimbursement from the Author out of proceeds from the project, not to exceed $250 per year.
* * *
Clause 10 – 

Sample Literary Agent Contract
Governing Law
This Agreement will be governed by the laws of the state of [insert state of literary agency].
* * *
Clause 11 – 

Sample Literary Agent Contract
Dispute Resolution
Author and Agency agree that any and all disputes arising under this Agreement that they are unable to resolve themselves shall be addressed solely and exclusively by engaging the services of a mediator who is mutually agreed upon by the parties. The parties shall share the costs of the mediation equally.
* * *
Clause 12 – 

Sample Literary Agent Contract
Notices
All notices hereunder shall be delivered by hand, by overnight courier service, or by certified US Mail, return receipt requested (in which case notice will be deemed to have been given on the day following the first attempt at delivery by the Postal Service).
* * *
Clause 13 – 

Sample Literary Agent Contract
Authority
It is represented by Author and understood by all parties that, other than interests, rights and powers assigned by Author to Agency in this Agreement, Author owns the complete copyright and has complete authority related to the Project. Author warrants that he has obtained all necessary rights and permissions for materials included in the Project and will indemnify and hold the Agency harmless on matters related to the Project.
* * *
Clause 14 – 

Sample Literary Agent Contract
Entire Agreement
This is the sole Agreement between the Author and Agency, and supersedes any previous representations, promises or agreements, written or oral. No amendment, modification, or waiver of any rights hereunder shall be deemed effective unless in writing signed by the party to be charged thereby. This Agreement binds and inures to the benefit of the parties and their respective legal representatives, heirs, distributees, successors, and permitted assigns. If any clause in this Agreement is found to be unenforceable in law, the other clauses in this Agreement will nevertheless remain in force.
* * *
Clause 15 – 

Sample Literary Agent Contract
Signature
Signature below by the parties named in this Agreement will indicate that all parties concur with the terms and conditions of this Agreement.
Author Signature: ______________________
Mailing address: ______________________
Social Security or Federal Tax ID#: ______________________
Agent Signature: ______________________
Now, click here to read the next article in this 8-part series and learn the difference between a literary agent and a Literary Agent Attorney.

* * *
* * *
Find a Literary Agent