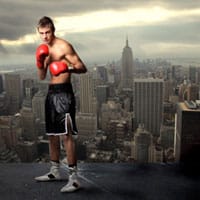 How to fire your literary agent – I'm going to walk you through the process step-by-step, in a professional manner that won't hurt anyone's feelings… or your writing career.
It doesn't matter whether you've been with your literary agency for years and they've sold several of your books, or you're just getting started and your literary agency hasn't done a thing. If it's not right, I'm going to show you how to end it.
This article is part of an 8-part series called, ironically, Hiring a Literary Agent. If you haven't already done so, make sure you also read our other article on this topic, called How to Leave Your Literary Agent.
* * *
How to Fire Your Literary Agent – 3 Steps
The hardest part of learning how to fire your literary agent (for most authors) is finding the courage to do it, and fighting through the fears about what happens next. But my 3-step process will show you how to leave your literary agent without a lot of fuss.
* * *
#1 –

How to Fire Your Literary Agent
Be Nice
Want to know how to fire your book agent? Be nice during your "breakup" no matter what's taken place. Even if your author representative was a total idiot: didn't respond to your emails or voicemails; treated you with disdain; misled you; deceived you; or even stole your royalties. You aren't going to improve your position by being rude. In fact, it could come back to hurt you.
If it's over, end it amicably if at all possible. Instead of fighting, trying to win, or prove your point… simply say it's over and move on. That way it's much less likely that the person you're parting ways with will say or do anything to hurt your reputation. Although it might not seem like it right now, this is incredibly important. Don't be aggressive or passive aggressive. Even if the person deserves it.
Just get the heck out of there.
If it's really that bad (let's say your agent broke the law and stole from you), hire an attorney. Just don't go badmouthing the agent on social media, your website, or your blog. It's a waste of time, and it can get you into legal trouble. Put the past behind you and get a new literary agent that's better.
* * *
#2 –

 

How to Fire Your Literary Agent
Do It By Phone
How to fire your book agent?
Although you might be required by law to terminate your author/agent relationship in writing, don't start there. Please don't break up with your agent by text message, email, postal mail, or certified letter. It's not good for romantic relationships, and it's not good for business relationships. Give your representative the courtesy of a phone call.
Want to know how to fire your book agent?
Keep it simple.
Thank your agent for those things that you feel he or she has done well during your time together
Then say that you feel it's time for you to move on because [insert rationale here]
Don't attack the person or make them wrong, simply make it about you and the fact that you're looking for something different
Some author/agent agreements have a clause in their contract that says, in the event of termination, the literary agency will inform the author, in writing, of all pending offers, solicitations of offers, and negotiations with respect to your book(s). So make sure you review your literary agent contract and make a list of any questions that you have about this, or other issues, before you get on the phone.
Remember, this might be the last time you speak to your agent.
* * *
#3 –

 

How to Fire Your Literary Agent
Do It In Writing
How to fire your book agent? After you get off the phone with your literary agency, put in it in writing and send it to them via certified mail. It doesn't have to be complicated. For example, if your literary agent contract has a 30-day termination clause you might say…
Dear Agent,
As per our contract and previous phone call, this is a 30-day termination letter. I'm grateful that you took me on as your client and I wish you all the best with your future endeavors.
Sincerely,
Your Name
If you don't take this final step, and put it in writing, you don't have any proof that the agreement has been terminated. Besides, you probably have a clause in your author/agent agreement requiring you to send all notices by certified mail, like the sample "notices clause" that you'll find here in this sample literary agent contract.
* * *
How to Fire Your Literary Agent – Conclusion
If you want 1-on-1 support during your transition, to help fire you book agent and/or find a new one, click here to see how you can work with me as your Book Marketing Coach.
Then click here to read the next article in this 8-part series
and learn How to Choose a Literary Agent.

* * *
* * *
Find a Literary Agent