Listen Here or Download the File
This recording is for authors of all genres (fiction, nonfiction, and children's books), at all stages of development. Authors who participated in the live event asked Mark and Ingrid questions about how to write, publish and/or market their book(s). Scroll below to see examples of the topics authors can ask during these Q&A calls.
* * *
Press the Play Button
Below to Listen (60 minutes)
Press the play button above to listen, or click here to download
(left-click or right-click the link, then select "Save Link As").
* * *
Representative Question Topics
* How to write, publish, and/or market your book
* How the publishing industry works
* The latest trends in book publishing
* How to give your book greater bestseller or high commercial potential
* How to improve your promotional platform and get more exposure in a way that fits your unique skill sets, passion, and personality
* How to get the attention of top literary agents
* How to turn your book into a brand
* How to develop additional streams of income as an author
* How to decide whether you should seek a traditional publisher like Random House or self-publish
* Subsidiary rights like feature film, merchandising, and licensing
* Writer scams
* How to create an effective author website or blog
* Your unique book publishing dilemma or situation
* How to choose the right partners to help you write, publish, and market your book
* Our coaching and consulting programs and services
* Anything else we forgot to mention
* * *
Host Biographies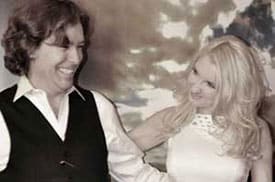 MARK MALATESTA is a former NY Times bestselling literary agent and founder of The Bestselling Author™, helping authors write, publish, and promote their books. Mark's authors have secured book deals with publishers like Random House, Simon & Schuster, and Thomas Nelson. They've gotten 6-figure advances, been on the NY Times bestseller list, won countless awards, been licensed in more than 40 countries, and been picked up for TV, stage, and feature film with companies like Paramount Pictures and DreamWorks (resulting in millions of books sold). Learn more at www.TheBestsellingAuthor.com.
INGRID ELFVER is the founder of Born Celebrity™, helping entrepreneurs discover and develop their authentic, one-of-a-kind, million dollar personal brands. For more than 20 years Ingrid has worked with everyone from A-list celebrities to entepreneurial startups. Her clients are experts and trendsetters in their industry who have: appeared on national TV and radio, been featured in major magazines and newspapers, been quoted by popular websites and blogs, published books with major publishers, and been paid as spokespersons for major businesses and brands. Learn more at www.BornCelebrity.com.
* * *
* * *
Find a Literary Agent