Scott LeRette – Author of The Unbreakable Boy – During this insider interview on our literary agent blog, author Scott LeRette explains how he wrote his book and got a top literary agent to represent him, resulting in a bidding war between major publishers. Scott recently signed a publishing contract with Thomas Nelson (a division of Harper Collins) and his book The Unbreakable Boy is now available around the world.
The Unbreakable Boy is about a teenage boy, Austin, who loves pizza, movies, dancing, and girls. But unlike most other eighteen-year-olds, he has a rare brittle-bone disease, was locked in a mental ward as a child, and is autistic. Yet Austin doesn't let any of that stop him. His is a world where suffering a broken back is a minor inconvenience and the quest for the ultimate strawberry shake just might be the best day of his life. Written with remarkable candor by Austin's father, Scott, and New York Times best-selling author Susy Flory, The Unbreakable Boy weaves the beautiful and often humorous tale of how Austin teaches his father—and everyone else he encounters—to have faith in God and trust that one day life's messes will all make sense.
During this special interview, Mark Malatesta (an author consultant and former NY Times bestselling literary agent), asks Scott to share his best advice on how to write, publish, and promote a book. This interview will be of interest to authors of all genres at all stages of development.
Enter your first name and email address in the form
to the right that says "Free Gift!" for instant access!
And enjoy,
Mark
* * *
Scott Talks About Coaching
with Mark Malatesta

"Boom!!!
I just signed a contract with Thomas Nelson/Harper Collins for (what I've been told by several people) is a very large advance for a first-time author. Before working with Mark I submitted my book to agents but didn't get any interest. This time around I got a top NY literary agency (Fine Print Lit). They got publishers bidding against each other and now I'm looking forward to my book tour. I'm also excited to say that the Editor in Chief at Thomas Nelson is going to be my editor!
What cloud is higher than 9?
I actually had several agencies interested before deciding to go with Fine Print. And, to be honest, all of the attention didn't surprise me. The query letter and proposal that Mark helped me develop were incredible. Agents actually said things to me like: 'Scott, I read your proposal and I'm just blown away by it! Are you available to chat tomorrow afternoon?'
One of the reasons I'm having so much success is that Mark helped me steer my entire vision for the book. He took the time to get to know me and understand what it was that I was trying to do. That's just as important as the actual writing of the query letter and proposal.
Mark walked me through every step of the process, baby step by baby step. He showed me how to give my book greater bestseller potential, making it more meaningful and appealing to a broader audience. He guided me through some minor rewrites. And he showed me how to communicate all of the project's value to agents. I was too close to it.
I might have been able to get an agent without Mark's help, but it probably wouldn't have been a TOP agent. My chances of eventually getting published would have been a lot less. And, if I did get published, it probably would have been on a much smaller scale, for a much smaller deal.
The sample query letters, proposals, questionnaires, and training documents that Mark gives his clients are significantly better than anything I've ever seen. I've gotten a lot of information online and in writers' forums, and it doesn't look anything like this.
Going through Mark's process helps you pull every useful thought and detail out of you… so your finished query letter and proposal are mostly your words, in your voice. But Mark has this amazing expertise and ability to take your words, move them around, and make them sound so much better.
In fact, there were things that I told Mark casually on the phone during our sessions, that I later saw he'd added to my query letter! I'm reading it to my wife… saying 'Yeah!' and high-fiving her because it's exactly what I said… and it works great.
Mark also brings passion and compassion to his work. He really cares about the authors he works with, and he's sincere. It's pretty neat to have someone like that, when you can feel they've 'bought in' and they're passionate about your project. It's great to have someone that you can call your mentor or guiding force, your silver bullet or secret weapon.
Mark is extremely talented at what he does, and the process of working with him has totally opened my eyes. If you have the opportunity to work with him, take advantage of it."
Scott LeRette
Author of The Unbreakable Boy
http://theunbreakableboy.com
* * *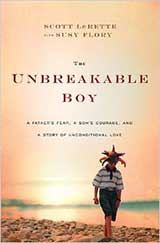 Click on the book cover
above to buy the book…
* * *
And SHARE this page!
Like It, +1 it, Tweet it, etc.
It's good book karma,
Mark


* * *
* * *
Find a Literary Agent