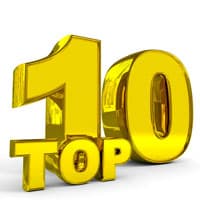 Literary agent lists – some are better than others. Which ones will give you the best return on your investment of time, and possibly money? Read the article below to learn about the ten most popular literary agency directories available today (print and online).
This article is part of a 9-part series to help you Find the Best Directory of Literary Agents.
* * *
Literary Agent Lists – Introduction
Before we reveal the ten best literary agent lists, it's important that you understand how we selected them. We also want you to know why we ranked them the way we did. In some ways, comparing these literary agent lists is a lot like comparing apples and oranges. That's because some of the resources listed below provide more than just literary agency information. That said, this article is meant to help you do just one thing… find the best literary agent list (or lists) to help you get representation for your book.
* * *
Literary Agent Lists Ranking Criteria:
The number of literary agents included (USA/International)
Quality of agencies included (no fee-charging or unethical agents)
Personal info (agent photos, personality, etc.)
Number of book genres/categories included
Preferred query submission method(s)
Contact information (mail and email)
Biography detail (agent/agency)
AAR membership status
Literary agent gender
Overall ease of use
Accuracy
Now that you know how we compiled and ranked
our literary agent lists, let's take a look at it.
* * *
The 10 Best Literary Agent Lists
* * *
1) Literary Agent Undercover's Directory of Literary Agents – Literary Agent Lists
This is the Literary Agent Directory created by the team here at Literary Agent Undercover, starting with the personal rolodex of former NY Times bestselling literary agent Mark Malatesta. Unlike many of the other literary agent lists in this power ranking, this directory is free. It includes every active literary agent (more than 1,000), but it's also easy to navigate. Agents are searchable by genre/category (116 of them). You can see full-length agent biographies and photos, AAR membership status, query letter method (email, online form, postal mail), links to literary agency websites and maps to literary agency offices, as well as personal email and postal addresses.
* * *
2) The 2013 Guide to Literary Agents – Literary Agent Lists
The 2013 Guide to Literary Agents is #2 on our ranking of literary agent lists. Designed to be an essential author resource for authors wanting to research literary agencies, this resource ranks high because it's comprehensive and well indexed. But it also includes listings for literary agencies that charge reading fees and engage in other questionable business practices. The 2013 Guide to Literary Agents has listings for most American literary agents, but it also includes craft and business advice from more than 35 literary agents on topics like query letters, children's books, synopses and proposals, memoir writing, first chapters, conferences, platform, and more.
* * *
3) Jeff Herman's Directory of Agents – Literary Agent Lists
Jeff Herman's Directory of Agents ranks #3 in spite of some major shortcomings. This is one of the better literary agent lists because it features some of the most successful literary agencies in publishing. It also includes information about book publishers and editors, making it the proverbial jack-of-all-trades-and-master-of-none. That said, there's a lot to like here. Although other literary agent lists have more entries, this guide gives you the most insight into book agent preferences and personalities. There are only a couple hundred literary agencies in this book, but most of them are reputable.
* * *
4) Publishers Marketplace – Literary Agent Lists
Publishers Marketplace is an online community of more than 40,000 publishing professionals, including book agents, making it #4 on our literary agent lists. The purpose of Publishers Marketplace is to help publishing professionals (including aspiring authors) find information about other publishing professionals (like literary agents). Two of the reasons we ranked Publishers Marketplace so high on our list of literary agent lists are the fact that it's free to read profiles for literary agencies, and because you can find some literary agency profiles here that you won't find anywhere else (except the Literary Agent Undercover Directory of Literary Agents).
* * *
5) Literary Marketplace – Literary Agent Lists
Literary Marketplace (LMP) is the directory of America and Canadian book publishing. Literary Marketplace features more than 30,000 listings for categories like: Publishers, Literary Agents, Distributors & Sales Representatives, Wholesalers, Book Producers, and more. As a result it has a ton of valuable info, making it #5 on our literary agent lists. The print edition of LMP is an overwhelming 1,833 pages and weighs 7.8 pounds. LMP  is great if you work in the publishing industry. If you're an author, you'll simply find it lacking. The literary agency entries contain very little information compared to the other literary agent lists above.
* * *
6) AAR – Literary Agent Lists
The Literary Agents' Guild (more commonly known as the Association of Authors' Representatives or AAR) is the only professional organization governing the business dealings of literary agencies. Members of the AAR are some of the most successful (and ethical) author representatives in the world, and the AAR has a member directory on their website. However, less than one third of all active agents are members of the Association of Authors' Representatives. You'll also find that most of the member profiles in the AAR directory don't have a tremendous amount of information. And the directory isn't easy to navigate.
* * *
7) Query Tracker – Literary Agent Lists
Query Tracker is one of the most popular literary agent lists in our power ranking, due to the fact that it lets you organize and track your query letters, as well as view statistics about literary agencies. So why didn't we rank it higher on our Top 10 Literary Agent Lists? Well, you have to be pretty technical (and willing to endure a steep learning curve) to use this query tracking software. Our team found lots of errors as well, when verifying the accuracy of the literary agency entries. Plus you have to pay to access a lot of the information at Query Tracker, that you can get free in the Literary Agent Undercover Directory of Book Agents.
The remaining entries on our Top 10 Literary Agent Lists are:
There isn't much difference between these three literary agent lists. They all provide basic literary agency info, but they also have the most mistakes (and there isn't anything special about them, once you know about the literary agent lists at the top of our ranking).
Click here to read the next article in this 9-part series and
learn about the 2013 Guide to Literary Agents.

* * *
* * *
Find a Literary Agent