Author You – Are you an author that wants to be seriously successful? Then get your copy of this new book today, during its official book launch. Created around 22 Activities, illustrated and in four-color, Author YOU is comprehensive, clear, candid and easy to read, digest, understand, and implement. It's ideal for the emerging author or the one who is ready to start on the next book project. What else could an aspiring author want??? Oh, yeah, a book deal. Well, this book will help.
Get your copy of Author YOU: Creating and Building the Author and Book Platforms  TODAY or TOMORROW during the official launch and get valuable free gifts created just for authors and publishing when you order now from over 47 publishing pros! Those gifts alone would cost $2600 and they are yours, for free.
* * *
Author You Book Review by Mark Malatesta
Good for Self-publishing or Traditional Publishing
5.0 out of 5 stars
"As a former NY Times bestselling literary agent (now author consultant), I wish more authors would read books like this. Author YOU is a great resource for authors of all genres – fiction, nonfiction, and children's books – that want to self-publish or get a traditional publisher. If you want to be taken seriously as an author and build your platform, add this book to your library. It will give you a tremendous competitive advantage."
– Mark Malatesta | Author YOU Book Review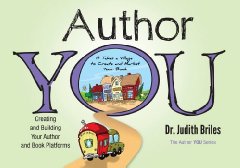 * * *
More Reviews – Author You
Here are a few more reviews by authors you might recognize…
Judith is the Bomb
5.0 out of 5 stars
"Judith Briles has been teaching me about self publishing for almost 10 years. She is the most creative and smartest person I know in the entire book publishing industry. Author You will help you to see what I see in this amazing woman. Buy it today!"
– Mike McQueen | Author YOU Book Review
* * *
MOST helpful book for writers I've ever read
5.0 out of 5 stars
"Judith Briles is a huge supporter of writers and authors and has written a book that can change how we work, write, launch, and even live. Author You is a must read and a great investment. Learn from a real book pro! Judith Briles is the consummate book publishing professionals. She knows all the ins and outs of the business. Read Author You and you'll save yourself a ton of headaches, and save a lot of money, and you won't waste a lot of time when you create your book. Author You is a must read."
– Mary Agnes Antonopoulos | Author YOU Book Review
* * *
This book is a writers gift!
5.0 out of 5 stars
"I am familiar with Judith's work and must confess to already being a bit biased. That being said, Author You has blown me away. You won't find better direction, instruction and full proof methodology, and all presented in such a unique and wildly creative way. It has "Judith" written all over it! Not only will Author YOU get you where you want to go as a successful author, you will have a blast getting there! Kudos to this talented writer, gifted coach, and top notch book shepherd for sharing all that she knows to help others achieve their dreams. LOVED, loved this offering!"
– Tammy | Author YOU Book Review
* * *
You can do it yourself or read this and stop stumbling
5.0 out of 5 stars
"Judith Briles has more than 25 years in writing and publishing. Author YOU gives you so much great information about how to make it as a successful writer and author. You won't be disappointed."
– Maryanna Young | Author YOU Book Review
* * *
Magical Process for Authors and Publishers!
5.0 out of 5 stars
"Author YOU is an incredible and highly essential resource for any author and publisher wanting to build a powerful platform for their work. Judith Briles has created a magical process to help you create the book you always wanted to write, publish it profitably and launch it more successfully than you can even imagine."
– Dick Bruso | Author YOU Book Review
* * *
Years in the Making
5.0 out of 5 stars
"Dr. Judith Briles has spent years as a notable mainstream author and a self-published author, has interviewed dozens of successful authors, and has been coach to legions of budding authors. In short, she know exactly what makes for an effective author and book platform and reveals all in Author YOU."
– Jeff Davidson | Author YOU Book Review
* * *
Exactly what Authors Need
5.0 out of 5 stars
"It is a very confusing world for authors today and Author YOU is a shining light of guidance for authors who are looking to make an effort to make their book a success. You will be more than pleased to get your copy."
– Sharyn Abbott | Author YOU Book Review
* * *
Author YOU Speaks To The Author In YOU
5.0 out of 5 stars
"Judith Briles has many best-sellers to her name, but more important, her many clients have published wonderful books and are building their own success as authors. More than a how-to, Author YOU guides a prospective author through the process of building her own unique business plan for creating a meaningful book and publishing experience. This no-nonsense approach equips emerging authors with the guidance needed to refine their individual value propositions and gives them the tools and resources needed to take an idea from the back of the envelope to the bookstore. The series of exercises in Author YOU is like a personal consultation session with Judith Briles, who has helped birth hundreds of books in her career. Briles gets specific, talking about everything from costs of publishing to social media tactics. It is of great practical use."
– M. Packard | Author YOU Book Review
* * *
Judith is a pro
5.0 out of 5 stars
"Judith is such a consulting pro and publishing industry leader that you cannot go wrong with her 30th book. Expecting a book to sell without a platform is like getting on a plane for Phoenix and expecting to land in New York–it's just not going to happen. If you follow the advice in Author YOU and Judith's creative approach to platforms, the days beyond your book's launch will be rich with possibility."
– Stephanie Barko | Author YOU Book Review
* * *
Step-By-Step Guide
5.0 out of 5 stars
"Authors can scour the Internet for articles and try to piece together a plan from various bits of advice; they can hire consultants; they can buy other books, but if they want to end up with a fully executable, complete publishing and marketing plan, what they really need is this "step-by-step" guide and workbook to put it all into place. Judith Briles delivers 30+ years of publishing experience in-between two covers. Woven around 22 Activities, illustrated and four-color throughout, Author YOU: Creating and Building Your Author and Book Platforms is the guide and workbook designed for Authors at every level. Authors should do themselves a favor and use this fabulous resource to educate themselves about the ENTIRE process before getting started."
– Amy Collins MacGregor | Author YOU Book Review
* * *
What a treasure!
5.0 out of 5 stars
"I had 30 years of successful nonprofit experience that needed to be shared. But I didn't know how to get it from my head and cabinet full of notes into a format that others could use. I didn't know how to create and distribute a book. The Author You platform was the answer to all my book questions! Author You is jam-packed with Judith Briles immeasurable expertise. This is a guidebook, a workbook and a volume of wisdom and encouragement. I find myself recommending this book almost daily. What a treasure!"
– Debbie Wilde | Author YOU Book Review
* * *
Excellent advice is a delightful package
5.0 out of 5 stars
"Judith Briles brings her vast experience helping authors to get published successfully to her latest book. Author YOU presents exactly the information you need to know about creating an author platform, and does so in a way that anyone can follow along and understand. If you're just getting started in the big world of self-publishing and want to know how you can kick your efforts into a new level, get this book and follow its lessons. This is a colorful and practical book that doubles as a workbook, with exercises to guide you through the sometimes confusing world of marketing your book."
– Joel Friedlander | Author YOU Book Review
* * *
Comprehensive Plan to Take Authors From A-Z
5.0 out of 5 stars
"Judith Briles has mapped out a comprehensive plan to take authors from A-Z in getting their idea to market: the RIGHT market. And that makes all the difference. As the author of 46 books myself, I know how much writing and authorship have changed. The burden of marketing has shifted from the mainstream publishing houses to the authors themselves. That's why finding the RIGHT market from the get-go is of paramount importance. Selling books—not just writing them—is the name of today's game. From problem, to platform, to published, Judith knows the ropes, resources, and road to save you time, money, and headaches. I've watched her succeed for 25 years. Author U will be her next bestseller."
– Dianna Booher | Author YOU Book Review
* * *
Serious Book with a Twist of Humor
5.0 out of 5 stars
"Dr. Judith Briles has written a serious book about becoming a published author with a twist of humor and clever wit. Briles has written over 30 books, teaching workshops on publishing since 1984. For the last 10 years she has been shepherding budding authors through the maze of getting published. Author YOU is an enchanting book–one that addresses the serious subject of creating an author platform and a book business empire.
Visually, this book draws you in to the world of self-publishing with ease and clear directions. You can't help but smile at the BookShepherd sheep as it leads you around the road blocks on the way to victory. The graphic black faced sheep pulls you forward while dancing down the road towards success. Author YOU may be the quintessential how-to book for the writer who wants to get published.
Author YOU offers clear steps for development of a vision, a passion, and a plan. It prepares you to create your game plan for process, completion, and marketing success. There are cautionary tales of predators and misdirected focus. There are even some aspects of Six Sigma integrated into the process, but offered as an easy to understand way of book mapping. Strategies for addressing resistance and writing blocks are presented by the BookShepherd sheep. This is a must have book for anyone who wants to write, get published and have fun in the process."
– A.J. White | Author YOU Book Review
* * *
A Must Read for Any Aspiring Author!
5.0 out of 5 stars
"I had the privilege of reading Dr. Judith Briles' new book "Author YOU: Creating and Building the Author and Book Platforms" recently and can honestly say this is probably the best book I've ever read on authorship. Judith leads you step-by-step through the process in an entertaining style that we should all aspire to with our own works. She is clearly a master of the craft and any aspiring author should read this book."
– Bret Ridgway | Author YOU Book Review
* * *
One of a kind!
5.0 out of 5 stars
"As a service provider to authors and a writer myself, who is very right-brained/creative oriented, I was thrilled the minute I opened Author YOU and flipped through the pages. The author is not only addressing the "how to" steps in a very detailed and easy to understand way, she's engaged the reader on many levels to impact memory and retention by using her own creative methods to construct a book and 'get-er-done." Lot's of color, humor, fun tips and motivation. Very exciting and a one-of-a-kind book guaranteed to motivate, enlighten and inspire every person who wants to act on their dream of writing a book. This is a gold mine, written by someone who has been there and done that – more than thirty times! Perfect gift for the writer too! Just can't say enough."
– IllustratingYou | Author YOU Book Review
* * *
A Refreshing Approach to Authoring One's Book
5.0 out of 5 stars
"Best-selling author Judith Briles has come up with a refreshing and unique way to guide author's on their journey to writing and completing their book. In "Author YOU", she offers a detailed and comprehensive way for creating and building an author's and book's platform. Peppered with her own experiences as an author of multiple best-selling books – and wonderfully clever illustrations that "lighten" the mood for exasperated writers – Author YOU breaks the mold of old, exhausting approaches and gives step-by-step instructions on how to make the best use of your time, money, strategies and brain cells(!) to get your book down on paper, off the ground, and into the marketplace. The book's unique interactive features (with dozens of Activities) make this a stellar addition to authoring one's book. In short, this is a tool that every author needs to include in their toolbox – totally unique, refreshing and necessary – in fact, you should have one copy for every book project you begin."
– Stephen N. Zelinger | Author YOU Book Review

* * *
* * *
Find a Literary Agent