Author Website Design – This article on our literary agent blog (for aspiring and established authors) is the third installment of a 3-part series, revealing the seven essential ingredients of effective author website design. This segment highlights many author website design examples that will inspire you and help you find the best author website template for you.
A professional author website design will help you: establish your credibility, impress literary agents and publishers, promote your book, get more exposure, make more money, and make a greater difference in the world. If you haven't already done so, click here first to read parts one and two: Author Website.
Then scroll below to see our
author website design examples.
* * *
Author Website Design Examples
Before you look at the author website design examples below, you need to know a few things. First, I helped create them. I don't just help authors write and publish their books. I also help authors discover/develop their personal brands, improve their author platform, and promote their books. I do a lot of that through a sister company called Born Celebrity (founded by my wife and business partner, Ingrid Elfver).
This is important for you to understand because it means we know for a fact that the author website design examples below are effective. That's because we've been able to measure them and see them get results. We also know WHY they work, because it's by design.
One more thing you need to know…
All of the author website design examples you'll see below were created in WordPress (WP). WP is a good website building platform to use, for many reasons:
* It's easy to use.

* It's free (not important to everyone, but it doesn't hurt).
* WP isn't just for bloggers (all the websites below, and all of my websites, were made in WP).
* You can install WP on your own domain/url/website address (and you should). Don't set up your WP website at wordpress.com or wordpress.org because then you'll end up with a lame url/website address like literaryagencies.wordpress [dot] com instead of http://literaryagencies.com.
* WP allows you to easily create beautiful (and smartly laid out) designs using "themes". There are tens of thousands (if not hundreds of thousands, or more) themes available on the Internet that you can easily install on your WP site. You simply have to look online and choose the one you like best. Many WP themes are free, and the others aren't very expensive. By the way, many companies that provide themes offer a "club" type of membership that allows you to use any of their themes (usually 20-80 to choose from) for $29-97.
* There are zillions of "plugins" or little software program add-ons (kind of like apps for an iPad, iPhone, or smartphone) that you can easily install on your WP site… to do virtually anything you can imagine. For example, I use one plugin that lets visitors to my website listen to audio files without having to download anything (since some people don't know how to download an mp3 file). I also use plugins to backup my sites, manage my email opt-in forms, and about 20 other things.
* WP is the most popular web hosting platform. That means whenever you have a question or run into a challenge, all you have to do is Google it and you'll find answers. That also means (incredibly important) if/when you run into a problem that you can't figure out… there are lots of people out there who you can hire (inexpensively) to help you fix it.
* Other author website design platforms (not WP) are extremely limited in their functionality and what they let you do. For example, you can only have a certain amount of pages in your navigation bar, etc. You might not recognize it right away. But trust me, you don't want to figure out what those limitations are after you've spent hundreds of hours creating your site. I've been there, done that.
* You have complete control of your website. One of the biggest mistakes I see in author website design… is authors creating sites on other platforms other than WP. The functionality of those platforms isn't just more limited. It's also extremely difficult if you want to move your website or change something later. Many web design companies consciously set up their businesses using proprietary tools so it's hard for you to leave, and you're "stuck" paying them exorbitant fees year after year. When my company sets up a website for a writer and creates an author web design, you get complete control. It's set up on your domain, with tools that you control. Completely. Of course, that's after everything is step up (looking good and working properly).
Okay, now that you know why you should use WP… let me show some author website design examples (for authors of fiction, nonfiction, and children's books) for you to learn from (and find inspiration).
* * *
Author Website Design – #1
Nadine Haupt, FAST Women in Business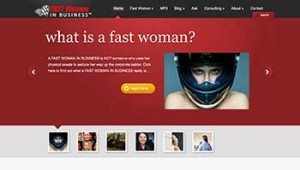 Ingrid and I have been working with Nadine for about 7 months. She was in the corporate world when we met and wanted to break out and do her own thing. Like many people, she wanted to find her own unique voice and message… and use it to create a book, business, and brand.
The first thing Nadine did was fly out to spend a couple days with us. When you're making big decisions in your life (it's good to get help and take the time to make sure you're doing it right). We helped Nadine get more clarity about what she's really best at (that's unique). Then we helped her research her competition, so we could position her in the strongest way possible.
That's when I came up with the million dollar name
for her brand: FAST Women in Business.
You'll understand why this name is perfect for her and her business/brand if you click through the link above and check out her website. I get goose bumps just talking about. LOVE it.
After we had the right name, Ingrid and I helped Nadine outline her: unique core teaching philosophy, coaching/consulting process, and marketing messages (including the free mp3 that you can listen to at her website). Now Nadine is scheduling lots of speaking (something she wanted to do) and building her coaching/consulting business. Soon she'll start writing her book called (you guessed it), FAST Women in Business. And she'll have an easier time selling it, because her website burns rubber.
Oh, make sure you check out Nadine's blog when you go to her website. It might give you some ideas for your content.
* * *
Author Website Design – #2
Rick D'Elia, Comedian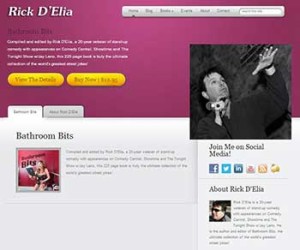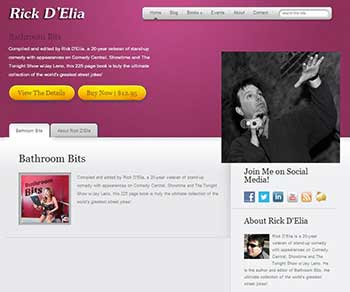 Rick D'Elia is a 20-year veteran of stand-up comedy with appearances on Comedy Central, Showtime and The Tonight Show w/Jay Leno. He already had a couple books published when we connected, so all we really did for him was create a new website. Notice the cool "slider" on the homepage that prominently displays his books. He has a section for videos, too, among other things. Anything is possible when it comes to author website design.
* * *
Author Website Design – #3
Jorge Avellan, Children's Book Author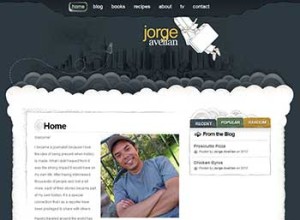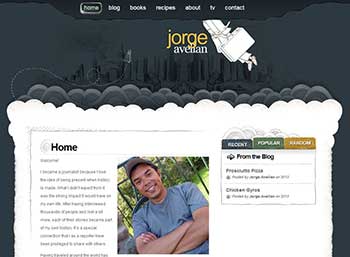 Jorge Avellan is a TV news anchor who also happens to write children's book and adult thrillers. We chose this author website design for him, specifically for his children's books. He hasn't started putting blog posts online yet, so there isn't a whole lot to look at on this site yet. But the author website design is rocking.
* * *
Author Website Design – #4
Gail Holstein, Fiction Author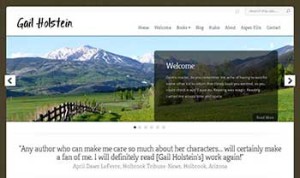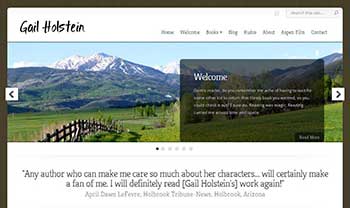 Gail Holestein is a wonderful author who wanted a simple design that was a bit rustic, matching the setting of Aspen, CO where she lives. Check out how we displayed the information about her books. You'll also notice, if you look at her blog, the she's posted a few articles that address some of the themes she deals with in her fiction.
Are you getting ideas?
* * *
Author Website Design – #5
Laura Liu, Embracing Your Dragon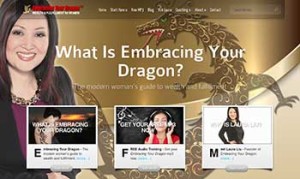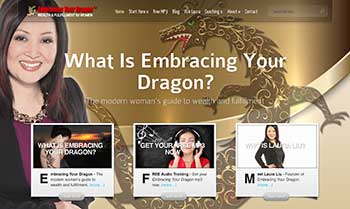 Laura's story is very similar to Nadine's (above). Ingrid and I have been working with Laura Liu (founder of Embracing Your Dragon) for about 7 months. She wasn't  working in the corporate world when we met (she was a stay-at-home mom), but she had a lot of experience in the corporate world.
As Laura's children started to get older, her desire and calling to do more in the world suddenly appeared… like a fire-breathing dragon. She wanted our help to figure out how to be a good mom AND a successful entrepreneur.
We steered Laura away from doing some things that she would have been good at but wouldn't make any money from (or very little). That's an extremely important part of our process when we help people discover/develop their brands. It can save you years of  frustration, heartache, and disappointment.
Laura is good at many things, but we focused her talents and passions in a way that allowed her to become a 6-figure coach/consultant within 4 weeks of launching her new author website design and brand (the one you see above).
Now she's working on her book.
* * *
Author Website Design – #6
Melinda Suglio, Do Animals Go to Heaven?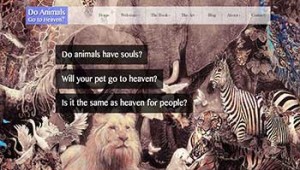 This is another case of "the author might not have gotten an agent without this website."
Melinda Suglio is an animal expert who recently wrote a book about animals going to heaven. Her book is nonfiction, and literary agents/publishers put more emphasis on an author's platform for nonfiction, so this was huge. The best part of this story is that Melinda got approximately 30 requests for her complete proposal and manuscript after sending out queries (with a link to her website, of course). Then she had four different literary agencies offer to represent her.
Isn't life wonderful when you make choices
that leave you with options?
* * *
Okay, by now you must have
a million thoughts going
through your head…
Comments AND questions.
So, post your comment
and/or question below.
And SHARE this article!
Like It, +1 it, Tweet it.
It's good book karma,
Mark
P.S. – If you missed it, click here to read
part 1 and 2 of this Author Website article series.



* * *
* * *
Find a Literary Agent