Author U Extravaganza – Read this post immediately as it contains a special, time-sensitive offer!
Don't miss this popular writers' conference and networking event in Denver, CO happening THIS WEEKEND. This event only happens once a year and it's for authors who want to be seriously successful – with a traditional publisher or as a self-published author. You'll get three days of you valuable content from NY Times bestselling authors, book marketing strategists, publicists, Internet gurus, mobile marketing geniuses, audio and video pioneers,  and more. Of course you'll also have plenty of time to network with the hundreds of people that will be there as well.
IMPORTANT: I just talked to the organizer of this event and she'll let you in for HALF-PRICE, if you call her in the next 24 hours at 303-885-2207 (no later than 4 pm EASTERN time on Tuesday, April 29th). Also, she's only going to do this for TEN (10) people from my community, so register now.
* * *
Question for you…
What do Mark Coker, President of Smashwords, Dan Poynter, author of The Self Publishing Manual, John Kremer, author of 1001 Ways to Market Your Books, Penny Sansevieri, author of Sell Your Books by the Truckload on Amazon.com, Joan Stewart, the Publicity Hound, Daniel Hall, the webinar king, Stephanie Barko, top literary publicist, Joel Comm, social media and marketing pioneer and a dozen plus other publishing and book pros have in common? All will be at the Author U Extravaganza, sharing their expertise and hanging out.
Are YOU going to be there?
Thursday, May 1 – Saturday, May 3, 2014
10:00am – 5:00 pm each day
Attend the whole event or just part of it!
* * *
Author U Extravaganza:
* Are you ready to invest in yourself and your book with an amazing array of talent that will take you and your book to the next, next level?
* Do you want to achieve the book and author success you envisioned?
* Do you want to learn a stream of insider author and publishing success tips that will elevate your expertise and visibility?
* Do you want to expand your possibilities?
* Do you know what you want to do?
* Will you be at the Author U Extravaganza?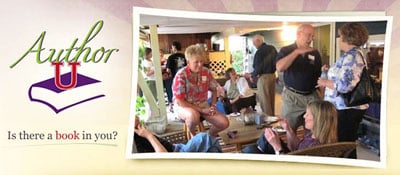 * * *
Other Important Details
This Author U Extravaganza is not a Literary Agent Undercover event, so don't email me with questions about it. For more information, click on the link below and/or call the event organizer (Judith Briles) directly at 303-885-2207. Please note, I won't be speaking at the event this year due to a scheduling conflict, but I have donated myself for auction. I'm giving away lunch with me, during which time you'll be able to pick my brain about publishing.
By the way, I've known Judith Briles (the Author U Extravaganza coordinator) for more than a year now. I've been on her radio show. I've spoken at this event in the past. And I've given a keynote at one of her other events. So I can tell you that Judith is a dynamo and fully dedicated to delivering high quality events. How else would she get the speakers listed above to participate?
For more information about the Author U Extravaganza, including pricing, click here to visit the official Author U Extravaganza website. And remember you can get HALF OFF if you call Judith at 303-885-2207 to RSVP!

* * *
* * *
Find a Literary Agent