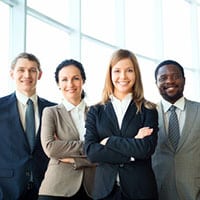 New Literary Agents – Find all new book agents here on this Literary Agents website created by a former NY Times bestselling literary agency owner and President, and Marketing & Licensing Manager for a well-known publisher.
Scroll below now to find the most comprehensive, accurate, and up-to-date information for all new literary agents seeking new clients. You'll also find out how you can get free, instant access to the Directory of Literary Agents which has detailed profiles for every active literary agent, including the new literary agents listed below.
* * *
New Literary Agents – New Book Agents
Enter your first name and email address now for free instant access to the official Directory of Literary Agents™.  Join thousands of other subscribers and use what authors are calling "the most comprehensive–and accurate–book agent directory available in print or online" (maintained by a former NY Times bestselling literary agency owner and President). 
* * *
* * *
Enter the Directory – New Literary Agents
Unfortunately, most book agent directories (print and online) are incomplete, outdated, and filled with mistakes. If you rely on those book agent directories to research new literary agents, you'll greatly reduce your chance of getting a top literary agency to represent you.
Our Directory of Book Agents is the most trusted source for book agent information available today. Get the most accurate information for all active book agents now (including new literary agents) by clicking here to access our Directory of Literary Agents.
Get free instant access to:
* Agent biographies for all new literary agents
* Agent photos for all new book agents
* Personal email addresses for all new literary agents
* Mailing addresses for all new publishing agents
* AAR membership status of all new book agents
* Preferred query letter methods (email, online form, postal mail)
* Links to agency websites for all new book agents in the directory
* Maps to offices of all new publishing agents in the directory
* Search the directory by book genres or categories (116 of them)
Here's what a sample book agent profile
from the agent directory looks like…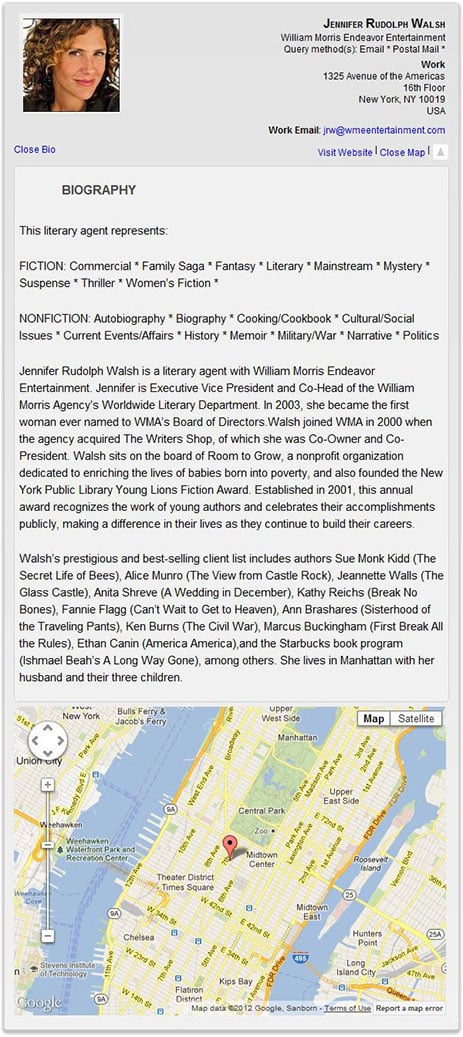 * * *
New Literary Agents – Important
Before you look at the list of new literary agents below,
there are three important things you need to know.
First, the new literary agents listed there aren't all just getting started as literary agents. In some cases, the "new literary agents" you see listed are simply new to the literary agency where they're working. In other words, they're already established but they recently stopped working at one literary agency to work at another one. We've included those agents on our list of new literary agents because most agents moving from one literary agency to another are on the lookout for new authors and clients.
The second thing you need to know about our list of new literary agents is that it's updated constantly and we keep the agent organized by year. So, if you're doing agent research and looking for new literary agents seeking clients, start with the new literary agents listed under the 2014 header. They're much more likely to be looking for new authors than new literary agents listed under previous years because the 2014 book agents moved or  just started agenting most recently. You should also note that all of the new literary agents listed below are sorted alphabetically, by their last names, and some of them appear as hyperlinks. That's because we're in the process of creating individual webpages for all of these new literary agents.
The third and final thing you need to know about the new literary agents listed here is that you can access detailed profiles for all of them in our Literary Agents Directory absolutely free. There you'll find complete literary agent bios, query format preferences, contact information, and more for every active literary agent (more than 1,000).
* * *
New Literary Agents – 2015 New Book Agents
Sergei Tsimberov
Moe Ferrara
Matthew DiGangi
Angela Scheff
Ella Kennen
Jana Pleyto
Veronica Park
Steven Harris
Gabriel Harris
Dana Newman
Ashley Collom
Colin Farstad
Michael Curry
Arielle Datz
Michael Hoogland
Erin Young
Deborah Warren
Bibi Lewis
Penny Moore
Jennifer Chen Tran
Penelope Burns
Cara Mannion
DongWon Song
Andrea Montejo
Pablo de la Vega
Liz Parker
Zoe Sandler
Alice Bauer
Stefanie Lieberman
Eve Porinchak
Alicia Justice
Megan Close
Lisa Abellera
Douglas Lee
Jennifer Johnson-Blalock
Melissa Kahn
Linda Scalissi
Terrie Wolf
Lisa Jackson
Adam Perry
Abby Saul
Cynthia Kane
Natasha Alexis
Erin L. Cox

Richard Florest
David Groff
Kerry D'Agostino
Bridget Smith
Lacy Lynch
Nena Madonia
Hillary Black
Roger Freet
Ria Julien
Jessica Schmeidler
Emma Schlee
Kristyn Keene
Sam Morgan
Rebecca Scherer
Vicki Selvaggio
John Campbell
Sara Megibow
William LoTurco
Amanda Panitch
Rayhane Sanders
Caitie Flum
Faye Atchison
Patricia Nelson
Anna Olswanger
Christina E. Daigneault
Lucas Hunt
Linda Camacho
Kimberly Brower
Rachel Marks
Rick Margolis
Lori Kilkelly
Bethany Buck
Sarah Passick
Jenny Stephens
Liza Fleissig
Melissa Carrigee
Johnnie Bernhard
Jeanie Loiacono
Mary South
Bridget McCarthy
Daniel Menaker
Michael Hamilburg
Amanda Rutter
Jak Burke

Stephanie Delman
Arthur Klebanoff
Alice Speilburg
Amanda Leuck
Deborah Schlesinger
Christian Schraga
Zach Beimes
John Maas
Leila Campoli
Essie White
Stacy Little
Rebecca Stead
Charlotte Gusay
Mallory C. Brown
Amanda O'Connor
Elias Altman
Nicole Tourtelot
Eric Myers
Stephanie Abou
Elisabeth Weed
Brettne Bloom
Ross Harris
David R. Patterson
Christine LeBlond
Saba Sulaiman
Melissa Edwards
Heather Flaherty
Steve Mancino
Christopher Hermelin
Robert Fleck
Flora Hackett
Travis Pennington
Lisa Leshne
Tina P. Schwartz
Lane Heymont
Cindy Uh
Laura Crockett
Trisha de Guzman
Ruth Samsel
Chila Woychik
Sarah Nagel
Alec Shane
Nan Vermylen Thornton

New Literary Agents – 2014 New Book Agents
Whitley Abell
Heather Alexander
Jon Baker
Noah Ballard
Mackenzie Brady
Samantha Bremekamp
Rachel Brooks
Kirsten Carleton
Madeleine Clark
Rebecca Collazo
Allison Devereux
Theresa Esquerra
Teresa Evenson
Sam Freilich
Mary Gaule
Nadeen Gayle
Taylor Haggerty
Cate Hart
Jennifer Herrera

Leon Husock
Dara Hyde
Kate Johnson
Julia Kardon
Andy Kifer
Kirby Kim
Lisa Kopel
Mary Krienke
Paul Lamb
Holly Lorincz
Catherine Luttinger
Doreen MacDonald
Alexandra Machinist
Tanya McKinnon
Tom Miller
Renee Nyen
Rebecca Podos
Lana Popovic
Christopher Rhodes

Maria Ribas
Michelle Richter
Mike Salisbury
Brooks Sherman
Alexander Slater
Becky Sweren
Brent Taylor
Nikki Terpilowski
Stacy Testa
Henry Thayer
David Van Diest
Pam van Hylckama Vlieg
Beth Vesel
Jane von Mehren
Jessica Watterson
Jamie Weber
Lena Yarbrough
Laura Zats

* * *
New Literary Agents – 2013 New Book Agents
Claire Anderson-Wheeler
Margaret Bail
Dan Balow
Alex Barba
Lydia BlyField
Jamie Bodnar Drowley
Brittany Booker
Susan Brower-Stephenson
Beth Campbell
Loretta Caravette
Christina Clifford
Amy Cloughley
Jill Corcoran
John Cusick
Kaylee Davis
Naomi Davis
Rachael Dillion Fried
Shaun Dolan
Susan Duff
Dave Fessenden
Emily Forland
Roz Foster
Mackenzie Fraser-Bub
Matthew Frederick
Louise Fury
Connor Goldsmith
Clelia Gore

Jim Hart
Shannon Hassan
Rachel Hecht
Saritza Hernandez
Christa Heschke
Shira Hoffman
Steven Hutson
Eleanor Jackson
Nicole James
Chelcee Johns
Tawny Johnson
Jen Karsbaek
Steve Kasdin
Laney Katz Becker
Julia Kenny
Emily Keyes
Peter Knapp
Sarah LaPolla
Victoria Lowes
Jonathan Lyons
Anthony Mattero
Laurie McLean
Emily Mitchell
Alyssa Mozdzen
Adam Muhlig
Edward Necarsulmer
Sarah Negovetich

Kirsten Neuhaus
Bryan Norman
Monica Odom
Emma Parry
Emma Patterson
Sharon Pelletier
Alexandra Penfold
Lara Perkins
Beth Phelan
Ruth Pomerance
Jessica Regel
Lisa Rodgers
Jodell Sadler
Danielle Smith
Rebecca Strauss
Amy Tannenbaum
Geri Thoma
Berta Treitl
David Unger
Ethan Vaughan
Rachel Vogel
Chloe Walker
Gordon Warnock
John Weber
Monika Woods

* * *
If you want to know more about new literary agents, established literary agents, or our book agents directory click here to access the Book Agent Directory section of this website.
* * *